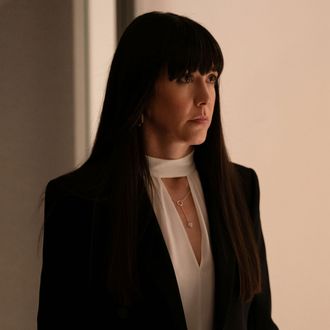 Zoë Winters as Kerry.
Photo: Macall B. Polay/HBO
If ATN is the Fox News of Succession, then Kerry Castellabate wanted to be the HBO show's Laura Ingraham or Tomi Lahren. Zoë Winters, the actor behind Logan Roy's ambitious assistant and his probable hookup, told Variety that her character's disastrous audition tape from last night's episode was inspired by Ingraham and Lahren. "We went into a real newsroom, so we had a whole setup, prompter, multiple cameras and screens — and it was really fun," Winters said of the scene, in which Kerry auditions to become a news anchor for Waystar Royco's conservative cable channel with awkward arms and an unsettling smile. "In these tapes, we see her wrestling to present her idea of charm, or what she thinks charm looks like, and she fails … I watched a lot of Laura Ingraham when the camera cuts, mistreating people, getting different information in her ear than she is from the prompter. Tomi Lahren has this very loud, heightened, fast way of presenting." She wanted Kerry to appear strained. "I didn't want her to be good," Winters said. "I wanted her to be trying." Poor Kerry tried and failed. Too bad we can't say the same about her IRL counterparts.