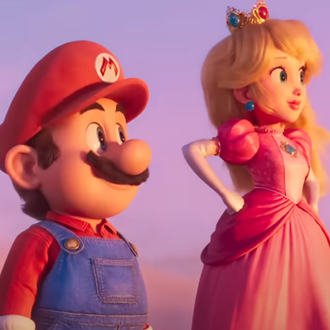 Photo: Nintendo and Universal Studios
This weekend's films have already begun battling it out over who will be the ultimate Super Star at the box office, but one film has already gained invincibility by breaking records. Regardless of how its predecessor might feel about the newest Super Mario Bros flick, the Chris Pratt-led film aims to hit a high score in its own game of Mario Party. As of Saturday morning, Deadline is projecting that the film is going to earn $195 million coins over the five-day opening. It would break box office records for Illumination's previous hits Minions ($115.7 mil three-day weekend) and Despicable Me 2 ($143 mil five-day weekend) domestically, becoming the studio's biggest opening ever. However, its most impressive record is its worldwide box office numbers. The Nintendo film is expected to earn a $368 mil global start during Easter weekend, surpassing Disney's Frozen 2.
And while not everyone can win all of the mini-games of the box office during this weekend's Mario Party, we still have some bonus stars to give out to other releases this weekend. Ben Affleck's Air has been awarded the Buddy Star for its all-star lineup and for its projected $18.5 mil five-day opening. Owen Wilson's Bob Ross-inspired film Paint wins the, uh, Red Star for its low critics' reviews and mixed audience reviews. However, Mario Bros is definitely the Super Star this weekend. Thanks for playing!