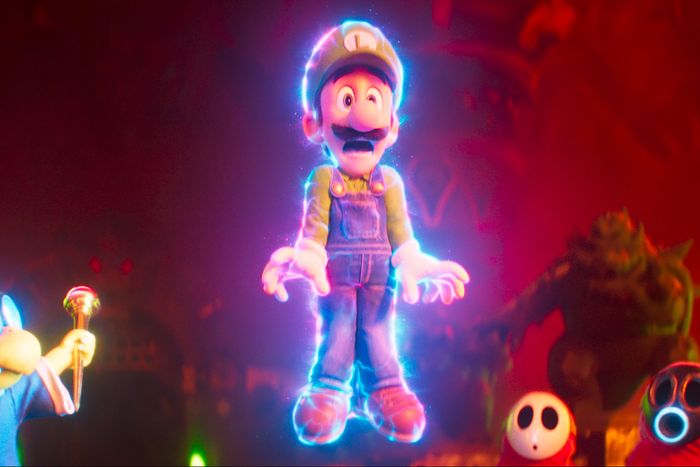 Photo: Nintendo and Universal Studios
Back in 2021, when Chris Pratt was announced as the voice of NYC's most famous mustachioed plumbing pro in the Universal Pictures animated video-game adaptation The Super Mario Bros. Movie, you could hear a din of dismay within certain quadrants of the internet. At issue: the Minnesota-born actor's honky midwestern vocal affect, deemed congenitally inappropriate for gaming's "It's-a me!" Italianate hero.
But a funny thing happened on the way to the Jared Leto accent jail for dialect hate crimes: The Super Mario Bros. Movie hit Bowser-big at the box office. Over its Easter-week debut frame, the candy-colored $100 million sci-fi romp took in $375 million theatrically to surpass Frozen 2 as the top-grossing animation opening of all time. Despite withering critical appraisals — with The Observer U.K. calling TSMBM "a frantic Easter egg hunt of a film that does the bare minimum to please its loyal existing fanbase" and FilmWeek's Claudia Puig lamenting its "bland, uninteresting, and cobbled-together" tenor — Super Mario landed as the biggest video-game adaptation of all time, 2023's most lucrative domestic opening (with a three-day total of $146.3 million), and a new box-office benchmark for Illumination Entertainment (whose previous title holder, 2015's Minions, bowed with a $115.7 million three-day).
Over its second weekend in theaters, Super Mario continued collecting the most gold coins of any movie in wide release. A true four-quadrant audience-pleaser (that is, packing in men and women, young and olds alike) and eclipsing most association between its primitively pixelated Nintendo IP and the 1993 Bob Hoskins–John Leguizamo proto-Mario flop, the movie beat out the new releases Renfield, Mafia Mamma, and The Pope's Exorcist to take in a massive $87 million domestically for a global "cume" of $678 million. Those kinds of numbers are more in line with a Fast & Furious sequel than a 92-minute kids' flick — especially a shock when considered within the continuum of video-game-movie catastrophes that go back three decades including Mortal Kombat: Annihilation, Max Payne, and Doom.
Moreover, entering the marketplace during a relative famine for family-friendly movies and not facing any direct competition until the May 26 release of Disney's live-action adaptation of The Little Mermaid, the movie is all but certain to hit a behemoth financial benchmark later this year, box-office experts say. "Mario is well on its way to making a billion dollars," says Comscore senior media analyst Paul Dergarabedian. "For any movie to get to a billion is a big deal. But in the realm of family films, where the average price for a kid's ticket is lower, it's rare. And live-action video-game adaptations have a pretty awful track record. I think this is a big signal to studios that family films are back and it's a wide open territory."
While you could fairly argue that Shazam! Fury of the Gods and Dungeons & Dragons: Honor Among Thieves (which both came out last month, underperforming at the box office) courted younger multiplexgoers, neither was aimed squarely at families like Mario. The more telling antecedent would be Universal's most recent animated effort Puss in Boots: The Last Wish, which came out just before Christmas and quietly hung in the top ten for months en route to racking up a surprisingly robust $479.8 million worldwide. It's another textbook case of underpromising and overdelivering, but also a kind of corrective to the financial failures of Strange World (which delivered the worst returns by a Disney movie since 2011's Winnie the Pooh) and Lightyear (which last year made a mere $226 million on a $200 million budget and cost at least $150 million to market).
The last Puss in Boots came out over a decade ago, and expectations for a sequel "were pretty low. But over the holiday corridor, over winter and into spring, it was the only game in town," says Jeff Bock, senior box-office analyst for Exhibitor Relations Co. "The industry had every right to question whether this demographic was still relevant in the way it once was. And I think this proves without a doubt that, yes, it is back. Nintendo is the clear winner in this. And video-game adaptations are the next big thing."
Back in 2019, a controversy with startling parallels to the Mario-Pratt accent flap played out surrounding Paramount's live-action adaptation of Sonic the Hedgehog. Upon that film's first trailer drop, Movie Twitter came together in near-universal condemnation of the CGI Sega character's "too big" and "terrifyingly human" teeth. The studio regrouped, forcing Sonic director Jeff Fowler and his VFX team back to the dental drawing board and pushing the movie back nearly a year. The upshot: The blue-furred blur debuted in 2020 to shockingly positive reviews and logged a global gross of $319.7 million. Sonic launched a franchise: A sequel took in $405.4 million last year, and a third installment is set for 2024.
Solidifying notions of our current games-as-IP tipping point, Sony's big-screen blowup of the Naughty Dog Playstation title Uncharted (starring Tom Holland and Mark Wahlberg) shocked Hollywood by grossing $401.7 million last year. "This is the prime time for all of those beloved video-game characters to take center stage," says Bock, pointing to the series adaptation of the first-person-shooter game Halo on Paramount+. "It was just a matter of time before multiple generations who love those characters are now the most willing participants to go see them in theaters. That wasn't the case maybe five, ten years ago, but it is time. All those kids who grew up on those games have families, have kids who also love those characters."
Should Super Mario cross the billion-dollar mark, it would come to rank as just the tenth animated feature ever to join the three-comma club — within striking range of Illumination's highest-grossing outing, Minions, which pulled in $1.1 billion theatrically. Viewed another way, though, TSMBM's success can be understood as signaling a shift long unthinkable within the animated-movie space — a direct challenge to the House of Mouse studio division responsible for genre-defining blockbusters like Finding Nemo, Inside Out, Up, and Coco. "I think you could say there's a changing of the guard in terms of who's on top in animation," says Bock. "For a long time, DreamWorks Animation and Illumination were behind Pixar by quite a bit. Now that's changing. Illumination just keeps on firing off hits. If you look at Sing, The Secret Life of Pets, even Trolls, these aren't groundbreaking films, but they whet the appetite of audiences. This is just what they want to watch and zone out to."
Mario's next competitor will be Guardians of the Galaxy Vol. 3, which blasts into the multiplex on Cinco de Mayo (like most Marvel cinematic universe entries, Guardians 3 aims for four-quadrant appeal and not necessarily the family-friendly contingent alone). But expect the Italian plumber to hang around in theaters well into the summer. "Nintendo and Shigeru Miyamoto's Mario, all of the characters associated with it, have been cultural icons for decades," says Universal's president of domestic theatrical distribution Jim Orr. "And then Nintendo's partnership with Illumination, who are just the best storytellers, great filmmakers, who have their fingers on the pulse of what works in a theatrical setting — what an unbeatable combination."