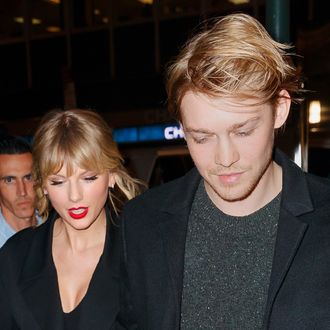 News broke over the weekend that Taylor Swift and Joe Alwyn have split up after six years together, and as you might expect, Swifites reacted very normally (i.e. made thousands of memes and scoured Swift's recent performances for evidence of the split). Though Swift and Alwyn haven't commented on the news, several outlets, including Entertainment Tonight and People, have confirmed the separation. Reactions to the break up are far-ranging, from jokes about Pete Davidson being a potential rebound, to serious conspiracy theories that the break up is in fact a cover-up for a Speak Now (Taylor's Version) song leak. Fans have even speculated that Swift's setlist switch at her Eras tour performance last month in Texas is due to the break up. But the common thread (the "invisible string," if you will) between all of these reactions is shock, sadness, and more shock. Good thing fans have several albums about emotional turmoil to help them cope. See more from Swifties below.
Shock and awe (and denial).
Laughing to keep from crying.
The conspiracy theories.