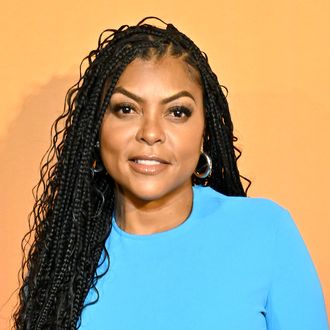 Photo: Steven Ferdman/Getty Images for CultureCon
Talk about a parent and teacher who don't do much associating. After almost two seasons, Abbott Elementary is finally going to introduce us to the source of Janine's mommy issues. Per Variety, Empire actress Taraji P. Henson will guest star as Quinta Brunson's TV mom in an April 12 episode appropriately titled "Mom." The Bear's Ayo Edebiri previously appeared on the ABC sitcom as Janine's sister, Ayesha. The news that Henson is also joining this on-screen family was announced at a PaleyFest panel on Saturday, and the Abbott Elementary account later tweeted a behind-the-scenes pic as confirmation.
So far in the show, we've learned that Janine normally can't even get a text back from her mom, Vanetta. In this upcoming episode, Janine's (Brunson) plans for a Memorial Day weekend solo trip are derailed when Vanetta (Henson) actually shows up in person asking for help. The season-two finale of Abbott Elementary is set to air on April 19 (but don't worry, Mr. Johnson will make sure the school's ready to reopen for season three).