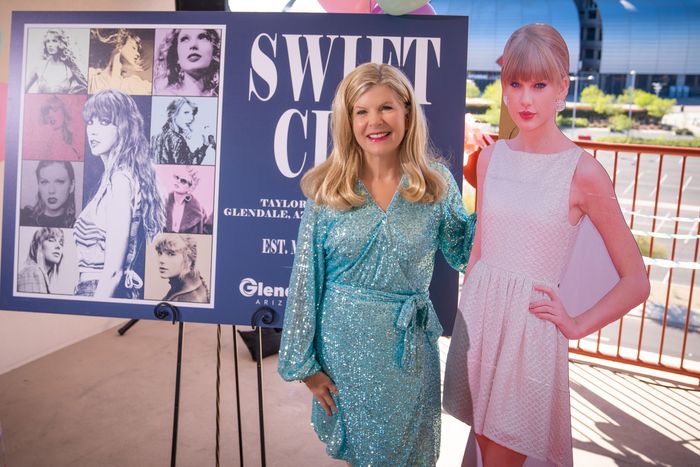 Photo: Courtesy of the City of Glendale
Last November, while most Swifties were plotting how to take down Ticketmaster, Sue Breding was masterminding another Taylor-inspired venture. As the communications director for the city of Glendale, Arizona, Breding knew her city had a chance to do something special when Taylor Swift's massive Eras Tour kicked off there in March. So she started working on a proposal, with a pink title at the top: Swift City.
Ceremonially renaming Glendale in honor of one of her favorite musicians seemed like a great way to celebrate the tour and get some attention. "I thought I'd get coverage from a couple of the local morning shows and the Arizona Republic newspaper," she says. "That would be a big win for me." She got more than that. Everywhere from TMZ to Rolling Stone to this very website picked up the news (along with the Republic). Soon enough, other cities were following Breding's lead, as local governments began competing over the perfect Swiftian welcome. Las Vegas lit its gateway arches, Arlington renamed a street, and Houston swapped its venue name for "NRG Stadium (Taylor's Version)."
If anyone were going to kick off this trend, it would be Breding. Back in 2006, when she was a reporter for KTVK, Breding interviewed a then-16-year-old Swift, who was singing the national anthem at a NASCAR race in Phoenix. Breding, who adds that she might have been Glendale's first Swiftie, noticed Taylor had "this dream in her eyes," and wanted to make the interview fun for the rising artist. "Here I am, still making things fun for Taylor Swift," she jokes.
She began planning months before the Eras Tour started. The stadium's office helped her escalate the idea to Swift's publicist, who gave her the blessing to use the tour imagery. There was just one caveat from the notoriously image-conscious star: The "Swift City" sign needed to be blue. "I actually have a version of the pink sign that our graphic designer made, and right away I had to say, 'No no no,'" she says. (Breding says the name came down to Swift City or Taylor Town; another Swiftie she works with voted for the former.)
Days before the tour began, the press conference Breding hoped for came together. Wearing a blue sequined dress, she introduced Glendale's mayor, Jerry Weiers. "Whereas Taylor Swift is one of the most influential and bejeweled musicians of her generation …" Weiers began, reading a slightly monotone proclamation that also snuck in references to "Shake It Off," "Fearless," and "All Too Well." "I do think that was a key part," says Breding, "getting him onboard to stand there and read a proclamation, in a language that I'm sure he didn't understand." (He's far from the first politician, after a number of senators wedged Swift references into a Ticketmaster hearing earlier this year.)
After the announcement, Swifties in city halls across the country began to mobilize. Susan Schrock, a Swift fan and the communications coordinator for Arlington, Texas, knew her town could rename itself like Glendale did, or light its monuments like Vegas, but she wanted something different. "We thought, Okay, what can we do that's quick and easy and would create a fun memory for the fans?" she says. They landed on something more manageable: renaming a road to Taylor Swift Way. In a matter of days, fans were lining up for photos with the new street sign.
But Swift's next stop, Tampa, had an end game ready. "We don't like to back down from a challenge," says Angela Ramirez, a communications strategist for the city, adding that they "didn't want to copy what another city had already done; we wanted to build on that momentum." Another Swiftie who worked in the administration suggested filming a video with Swift as mayor, but that quickly grew into a video of Tampa mayor Jane Castor inviting Swift to lead the local government. "Mayor Swift has a nice ring to it," Castor said in the video. "We can't wait to welcome you and your fans to Tampa (Taylor's Version)." Ramirez says the city DM'd the clip to Swift on Instagram, but they didn't get a response. ("I think she has her read receipts turned off.") If she had the time between her three Tampa shows, though, Ramirez says the city was "definitely open to hearing all of Mayor Swift's ideas." Perhaps City Hall needs an office cat?