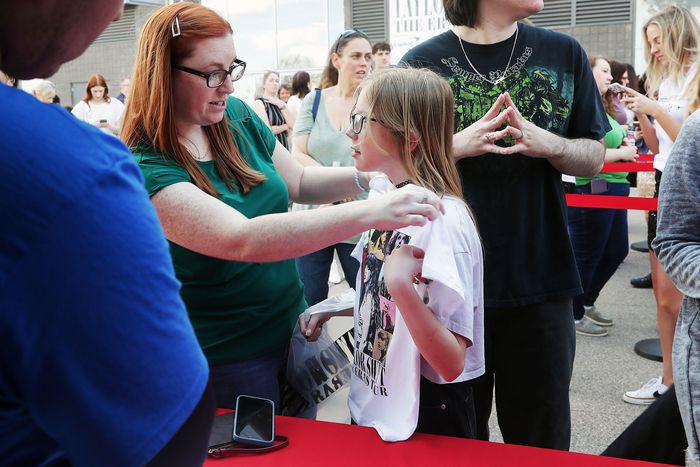 A young fan tries on a freshly unfaded Eras Tour tee.
Photo: John Medina/Getty Images
After attempting to expose the flaws of Ticketmaster, Taylor Swift fans are adding another pressing issue to their docket: tour merch. Swifties have been spending hours in line on the Eras Tour to purchase a coveted hoodie or tee, only to discover that the so-called finished products aren't coming across all too well.
"After one wash, the print was horribly faded to the point Taylor's face on the print was unrecognizable," says Emilia, who waited for over five hours to buy her gray quarter-zip sweatshirt at the tour's Las Vegas stop. "It was also 65 dollars, which I feel like is more than enough for it to hold up. It's super disappointing that it looks this bad."
Florencia, 24, says her tour shirt from the Glendale stop faded after one wash. "The point of buying a shirt or a sweatshirt is to wear it — if I knew I couldn't wear it, I would have gotten the water bottle or tour poster instead, which are cheaper than the clothing," she says. Afterward, she compiled a Twitter thread that collected similar complaints in hopes of finding a solution. "I wanted to create awareness and give a heads up about it to the Swifties who were planning on staying hours in line for merch just like I did."
The criticism was bad enough that employees working the merch stands have been giving fans a warning about the issues before they purchase. "I was actually warned about it from the girls running the booth at the Vegas show," shares Zackary, who nevertheless bought a white T-shirt and blue crewneck. Even the online-only tour goodies have been under scrutiny. Paty, 30, tells us that when she washed the shirt she got on the Eras site, "all the black ink in the pictures faded."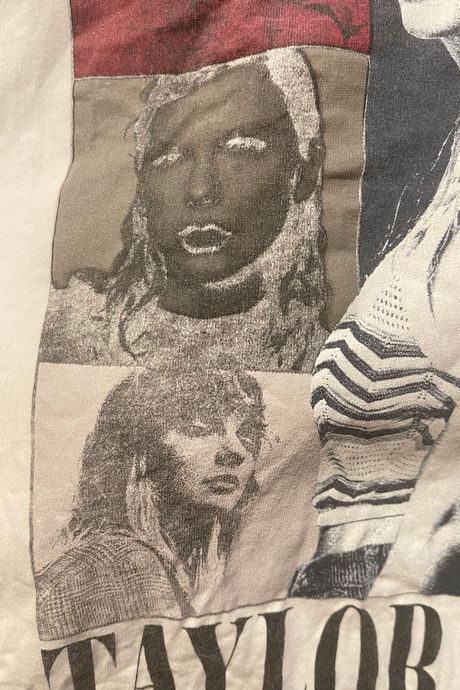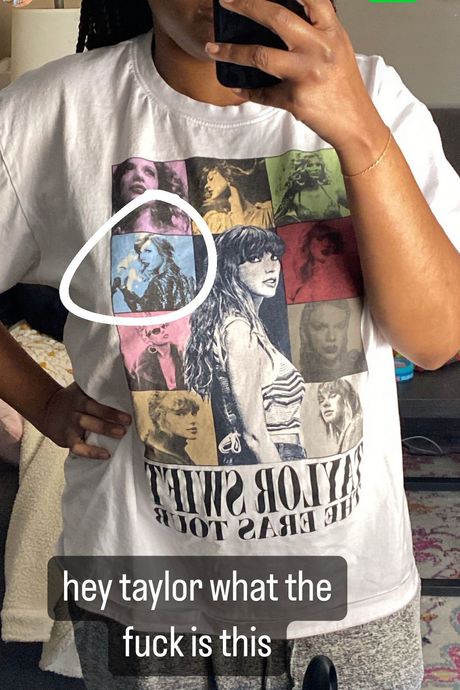 While Taylor's team declined to comment on the allegedly shoddy production, they have attempted to rectify the situation, posting a "they're supposed to look like this" statement to the online merch store, while also reminding fans to learn how to … correctly wash their clothes?
"Due to the particular ink curing process used on certain Tour Collection products, after washing your merchandise you may see a faint fade on the product print," the statement reads. "This slight fade is related to the product's distressed, vintage look. Please also note it is important to follow product care instructions as listed on the product label when washing and drying your items, to best protect and maintain the product's look and feel."
For what it's worth, Emilia tells us she took extra cleaning precautions and still had problems, washing her shirt in "cold water and inside out as we had heard there were issues." Not one to disappoint her fans, Swift's team is at least offering replacements (and also limiting bulk scalper purchases, which has become another hot-button tour problem).
While fans have been slowly getting the news that their faded items will be swapped out, others wished that "vintage look" Swift's team was allegedly going for was disclosed to them prior to purchase. "I think this is an okay solution, assuming UMG holds up on their end," says Emilia. "I just want some form of resolution, whether it be a replacement or refund, I don't care."