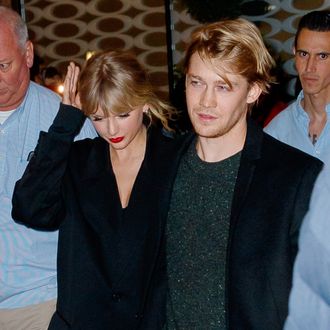 Will Alwyn ever drink Diet Coke again?
Photo: Jackson Lee/GC Images
Taylor Swift's latest Easter egg may be her worst: Over the weekend, sources confirmed her breakup with her boyfriend of six years, British actor Joe Alwyn. While this news comes as a shock to most Swifties, some fans now think she might have been hinting at it when she changed her set list in Arlington, Texas, from "invisible string" to "the 1" and possibly even as far back change as far back as the "Lavender Haze" music video. But, realistically, Swift is probably not going to "Mastermind" the end of her relationship as far in advance as October 2022, especially one that fueled five albums. Swifties and romantics alike have been mourning the "Sweet Nothing" loss over the past few days; after all, the couple was insanely private for all of six years, and fans got glimpses of their relationship only through her songs.
All the alleged hints and speculation have left fans with many unanswered questions about the end of "Toe" and their private relationship. Below are the burning questions we need answered.
How did Taylor Swift break the news to Olivia, Meredith, and Benji?

Who will entertain William Bowery's music ideas? Is he going to go solo?

Will the surprise songs on tour reflect how she's grieving the relationship?

Is Swift going to reveal she's Nice Boy Ed now?

Will Swift swear off London and the rest of the U.K. forever? Or will she become an Ireland girl with her BFF Ed Sheeran?

Who gets custody of the British English iPhone setting?

Are they both still invited to Jack Antonoff and Margaret Qualley's wedding?

Will Selena Gomez and Taylor continue the streak of dating when the other is single?

Does this mean a Gomez and Zayn Malik relationship might happen?

Or are Swift and Gomez both going to go on a Sex and the City–inspired adventure? Who's going to be their Che Diaz?

How are Alwyn and Paul Mescal supporting each other during their heartbreaks?

Has a silver Tiffany's necklace with a J pendant been spotted on Poshmark?

Does this confirm a Sally Rooney curse for celeb relationships?

Will she write a rom-com for her first feature film and will the male lead be British?

Is Alwyn going to have to give his Grammy back?

How spicy is Speak Now (Taylor's Version) going to be post-Joe?

Has anyone seen Karlie Kloss? Please keep her away from Alwyn.

Will Alwyn ever drink Diet Coke again?

Will Swift buy property on Cornelia Street out of spite?

Will "Hits Different" finally be released on streaming?