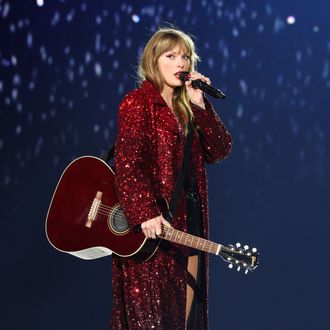 Work is her vacation.
Photo: Ethan Miller/TAS23/Getty Images
An apparently newly single Taylor Swift has been spotted shooting a music video. Swift had a break in her Eras tour last weekend, and the Sun reported she spent a few days on set in Liverpool. She did a two-day shoot at local landmarks, reportedly inspired by Matt Reeves's The Batman (which she praised last year). Paparazzi photos showed Swift running through a dark street holding a painting in what seemed to be a heist. That led fans to believe she's prepping a music video for "Vigilante Shit," the Midnights track seemingly directed at Scooter Braun over their label feud. (As she has been for years, Swift is saying he stole her masters.) What's more, the video also reportedly starred Joey King — the Bullet Train actor who previously featured in Swift's "Mean" video as a child. And if Swift is going to call anyone mean these days, well …
Or could there also be some breakup clues here? Swift was in Liverpool, which is in England, where her reported ex Joe Alwyn lives. The music-video gossip, which speculated she might spend Easter in London with Alwyn, came just out hours before news of her breakup. Coincidence?! Probably, actually.