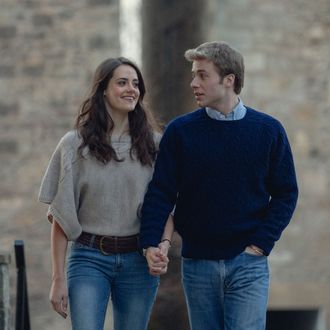 They're gonna get in each other's ugly jeans and share their ugly genes!
Photo: Justin Downing/Netflix
The Crown, a historical drama, has reached the 2000s. Feel old yet? British Vogue shared a first look at the actors in character as Prince William and Kate Middleton during Will's University of St. Andrews days (where the real-life couple met in 2001). Played by Ed McVey and Meg Bellamy, The Crown season six's versions of William and Kate are dead ringers for the real royals beyond personal looks alone (his hair!); this photo looks like an extremely accurate pastiche of a WB drama promotional still from the historical time period it's portraying, or maybe a preppy back-to-school catalogue from back when we all used catalogues.
Truly indistinguishable:
Netflix shared further photos of the characters on April 27, and they are all definitely photographs of young, attractive British people!
In addition to the stills, the official Crown Twitter account shared a behind-the-scenes photo of McVey and Bellamy in Edinburgh in front of a café that alleges it's "where Kate met Wills (for coffee)." Also, Netflix is using that dumb Twitter feature where you get a little organization emoji to denote that your organization (a TV show) is part of a larger organization (Netflix). It all looks too busy. Anyway.