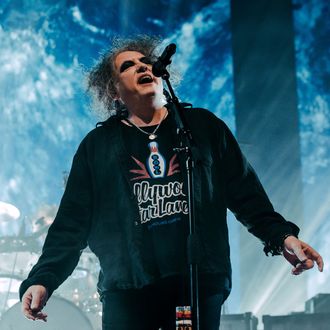 Photo: Mike Lewis Photography/Redferns
Update, April 3: Sure, boys don't cry — but Robert Smith is giving Cure scalpers a reason to. The Cure leader revealed he has gotten around 7,000 ticket sales canceled on Ticketmaster owing to scalping suspicions — tickets either already being posted for resale or being purchased with fake accounts. (Fans whose tickets got caught in the spree can contact Ticketmaster, he added.) The Cure is only allowing tickets to be resold at face value in an attempt to combat scalping. Smith went on to offer another "weekend thought" on Twitter about the good fight he's fighting: "This ongoing TM 'conversation' is not taking place in a vacuum … The system that values profit over people is really what needs to be changed."
As of March 17, in an unprecedented act of submission, Ticketmaster is giving partial refunds to Cure ticket-holders to lessen the burden of fee costs. Smith, who tweeted out the update at the time, said the company admitted to its unscrupulous behavior. "After further conversation, Ticketmaster have agreed with us that many of the fees being charged are unduly high, and as a gesture of goodwill have offered a $10 per ticket refund to all verified fan accounts for the lowest ticket price transaction," he wrote. "And a $5 per ticket refund to all verified fan accounts for other ticket price transactions for all Cure shows at all venues." People who already purchased a ticket will receive an automatic refund. He's given us one hell of an antidote, that's for sure.
Original story published on March 15 follows.
Robert Smith is sickened; if only there were a Cure. Hours after Ticketmaster began the "verified fan" process on March 15 to distribute tickets for the band's first American tour in years — an additional layer of security that Smith insisted upon to prevent scalpers and astronomical prices — the front man wrote an angry screed against the company for the mandatory fees they snuck in for buyers. "I am as sickened as you all are by today's Ticketmaster 'fees' debacle," he wrote in an all-caps Twitter thread. "To be very clear, the artist has no way to limit them. I have been asking how they are justified. If I get anything coherent by way of an answer I will let you all know … There are tickets available, it is just a very slow process. I will be back if I get anything serious on the TM fees."
One particular tweet gained virality for showcasing the extent of the company's malpractice: A fan's reasonable ticket price of $20 was more than doubled due to processing fees and charges. Despite Smith and the band eschewing a demand-driven "dynamic pricing" payment structure for the tour, which most recently enraged Bruce Springsteen and Taylor Swift's respective fanbases, as well as designating all tickets nontransferable, Smith admitted that scalpers were still able to get a fair share of tickets for the resale market. However, StubHub pulled those listings in states where there are no laws protecting the hustle. (He also called dynamic pricing a scam, which, indeed so.) This Cure saga serves as a reminder that the Biden administration is attempting to weaken the power of Ticketmaster and Live Nation, which hold a substantial monopoly over the concert industry. In February, the White House proposed the Junk Fee Protection Act, aiming to "prohibit excessive fees, require the fees to be disclosed in the ticket price, and mandate disclosure of any ticket holdbacks that diminish available supply." Whether it's on Tuesday, Wednesday, Thursday, or that other day.