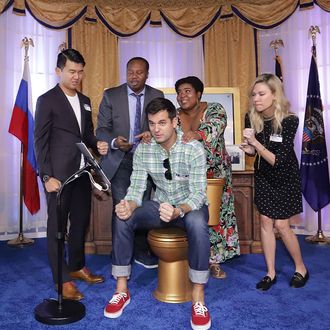 Hosts of the Day.
Photo: John Parra/Getty Images for Comedy Central
When it was first announced that The Daily Show would be filling Trevor Noah's vacated seat with a rotating slate of guest hosts until fall 2023, Comedy Central emphasized that the show's current cast of correspondents — Roy Wood Jr., Dulcé Sloan, Ronny Chieng, etc. — would all get turns at the helm. The show is currently in the midst of making good on this promise, and on April 19, the network announced plans to toss in a little bonus. During the week of May 22, The Daily Show's news team will host as a collective. It'll be like The Avengers but for topical-news-based comedy shows.
In addition, Comedy Central announced the list of names of people who will be shepherding the show through the end of June. Following on the heels of Michael Kosta's previously announced hosting turn, the show will pass the baton to Charlamagne tha God (week of May 15), the aforementioned news team (week of May 22), Michelle Wolf (week of June 5), Ronny Chieng (week of June 12), Lewis Black (week of June 20), and Desus Nice (week of June 26). Charlamagne will get the chance to bring his famed "Donkey of the Day" segment to The Daily Show, Wolf will have the opportunity to show Netflix why it was wrong for canceling her show The Break With Michelle Wolf, and Desus will get another shot (following a guest-hosting stint of Jimmy Kimmel Live! in August 2022) to prove that he can hold down a show without his former partner, The Kid Mero.
Below is the list of all of the comedians who have guest-hosted The Daily Show since Noah's departure and those on the schedule for future shows.
Week of January 17: Leslie Jones
Week of January 23: Wanda Sykes
Week of January 30: D. L. Hughley
Week of February 6: Chelsea Handler
Week of February 13: Sarah Silverman
Week of February 27: Hasan Minhaj
Week of March 6: Marlon Wayans
Week of March 13: Kal Penn
Week of March 20: Al Franken
Week of March 27: John Leguizamo
Week of April 3: Roy Wood Jr.
Week of April 17: Jordan Klepper
Week of April 24: Desi Lydic
Week of May 1: Dulcé Sloan
Week of May 8: Michael Kosta
Week of May 15: Charlamagne tha God
Week of May 22: News-team takeover
Week of June 5: Michelle Wolf
Week of June 12: Ronny Chieng
Week of June 20: Lewis Black
Week of June 26: Desus Nice
This post has been updated.