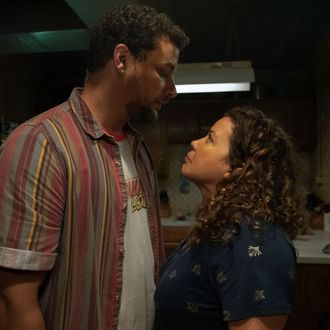 Alejandro Hernandez (Luis) and Justina Machado (Dolores Roach).
Photo: Jasper Savage/Prime Video
Perhaps the scariest thing of all is how many different forms of media one project can cycle through in its lifetime. The upcoming Amazon series The Horror of Dolores Roach began as an Off Broadway play called Empanada Loca, then became a Spotify podcast, also called The Horror of Dolores Roach, and is now turning to TV. We expect a movie and a Broadway musical based on this work within the next year. "It's been ten years from Off Broadway play to scripted podcast to television series, and I'm so thrilled the world will soon finally see Dolores Roach onscreen in all its delicious glory," series creator Aaron Mark told Vulture in a statement. Below, find everything you need to know about The Horror of Dolores Roach, including exclusive first-look photos, a release date, and the stacked cast.
What's it about?
The horror in The Horror of Dolores Roach stems from murder. Starring Justina Machado (One Day at a Time) in the titular role, the series follows Dolores, a woman recently released from prison, who returns home to Washington Heights and finds it gentrified. She works as a masseuse in a friend's basement and, according to the press release, "When the promise of her newfound stability is quickly threatened, 'Magic Hands' Dolores is driven to shocking extremes to survive." The story was inspired by the urban-legend of the character Sweeney Todd, with Dolores's friend Luis (Alejandro Hernandez) as the owner of an empanada business, which means — you guessed it — cannibalism! But it also means: the use of a story of murder and cannibalism in the story of the degradation of a specific city!
What do the first pictures look like?
Glad you asked! It looks brightly lit (Wicked, eat your heart out), but also lovingly referential of its Sweeney source material. Take a look at the cleaver that Luis is wielding in that first pic — right out of Mrs. Lovett's book. And also take a look at the second pic, which has a weirdly contentious "I might hate you or I might be in love with you" vibe between Luis and Dolores. Classic Sweeney stuff.
Who's in the cast?
Other than our two leads, Machado and Hernandez, there's Kita Updike as Nellie and K. Todd Freeman as Jeremiah in the main cast. But also, get excited about the guest-starring cast, which includes icons like Marc Maron as Gideon Pearlman, Cyndi Lauper as Ruthie, Jean Yoon as Joy, Judy Reyes as Marcie, and Jeffery Self as Caleb. Do we wish to see Cyndi Lauper get killed by Justina Machado and baked into empanadas? We'd watch that time after time.
When is it coming out?
The series drops all episodes on Prime Video on July 7. The perfect, horrific, cannibalistic, anti-gentrifying summer binge.