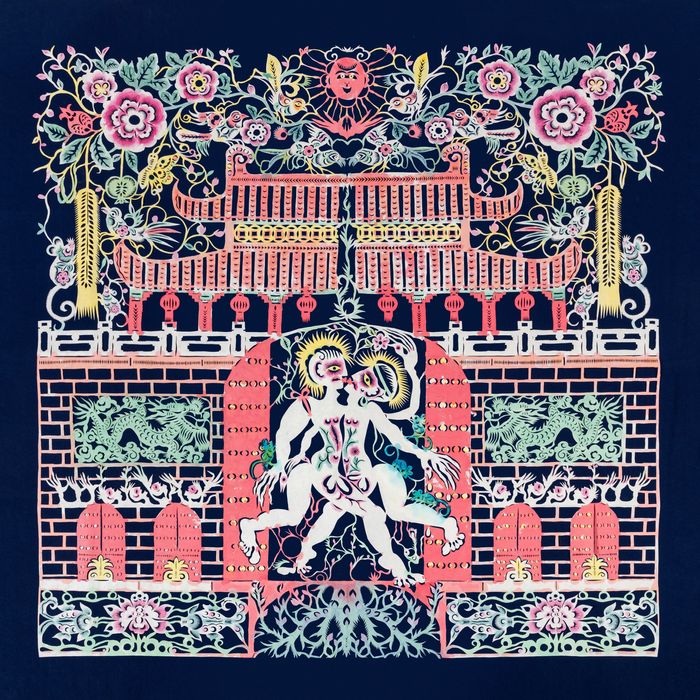 Art: Xiyadie, Gate , 1992 Paper-cut with water-based dye and Chinese pigments on Xuan paper
Xiyadie is a self-named, self-taught 60-year-old artist born in a farming village in a province of Northwest China. The pseudonymity — he says xiyadie means "Siberian butterfly" — is necessary because of the difficulty of being gay in China. For more than four decades, Xiyadie has worked as a farmer and migrant worker. He has lived a bifurcated life; he is married and a father, but separated from his wife. Xiyadie did not have his first show until 2010 and has not been able to freely show his work in China or live openly as a gay man in his hometown, according to the Drawing Center, where his first solo show in New York, "Queer Cut Utopias," is installed. His medium is the ancient Chinese craft of paper-cutting. Developed during the Eastern Han Dynasty (25–220 A.D.) and traditionally practiced mainly by women, the form often commemorates holidays and rites of passage, and frequently depicts legends and landscapes. Xiyadie creates very large, complex scenes of gay male love. According to a Drawing Center representative, one person who stopped by the show observed that the gallery had "a full-on cruising scene going down." Go.
Within Xiyadie's bursts of brightly colored paper, we spy lovers having sex. They exist in private states of freedom, secluded in secret gardens, cellars, underground clubs, bathrooms, backrooms, gay bars, and even in Tiananmen Square with Mao's tomb in the distance. Figures are seen behind walls, sneaking around. This is an immense world of nighttime love and daytime rendezvous.
In Gate, a figure representing Xiyadie performs oral sex on a man outside his home. Inside, his wife cradles a child. His face is depicted in a kind of kaleidoscopic cubism that recalls Picasso's Weeping Woman; it expresses pleasure, regret, and fear. Xiyadie says he felt such "shame" and "repression" that he sought help to stop being gay. This is part of the overwhelming madness of his work.
In Sewn, a male figure sutures the tip of his penis with a giant needle, which also pierces the roof of his house. Blood spurts from his penis in all directions as it loops into a kind of ectoplasmic protective canopy. He sits atop a large sword as he performs this mortification of the flesh, all the while gazing at a framed picture of his uniformed lover: a streetcar worker.
Elsewhere, we see men performing fellatio on one another, having sex in groups, dancing. Sometimes these figures become trees or plants, turning into human gardens, transforming into mythical beings. In Wall, a figure places his erect penis against a brick wall. Separated from him, on the other side, is a kneeling figure. While they don't see or touch one another, both erupt in flowers that rise above them and become home to perching birds.
Yet there is danger everywhere. Nearly every location might be a site of contention, and the threat of punishment and ostracization is in the air. In Yuquanying Subway Station (A chance encounter on a subway station, which used to be the base of homosexuals from the western suburbs of Beijing), a man inserts his penis into a hole in a wall and into the mouth of a man on the other side. The actual station was a clandestine place for gay men to meet and have sex. According to Alvin Li's catalogue essay, government policies have caused many such queer spaces to disappear in recent years.
Xiyadie's colors are vivid pink, turquoise, cellophane yellow. He uses food dyes brushed onto paper. Chroma intensifies, spreads, and dissipates in aural mists and fractal patterns. The figures are like shadow puppets, blending into shallow, meticulously choreographed spaces. Everything comes at you all at once with decorative retinal intensity, while the fragility of the paper turns surfaces into delicate tissues of skin. This is consummate skill and craft transformed into confession.
The largest and most recent work is Kaiyang, from 2021. Almost ten feet long and four and a half feet high, it is a masterpiece of multiple male figures having an orgy, taking showers, lounging together naked. All are in a Beijing bathhouse. "Only after moving to Beijing," Xiyadie says, "did I realize that there were so many of us."
Xiyadie says, "Paper-cutting is my own spiritual world, a world in which there are no worries and sorrows, just peace and free imagination … This is my stage." With a smattering of exhibitions like this one, the world is finally starting to see it.