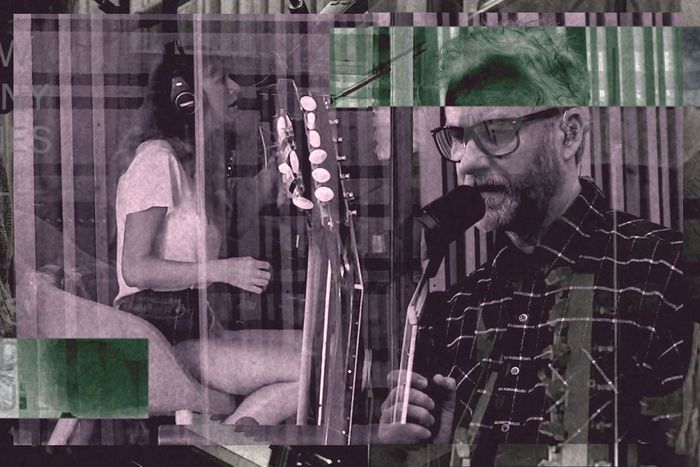 Picture going back ten years and telling someone the National and Taylor Swift would make a song together. Even as recently as the band's last album, 2019's guest-heavy I Am Easy to Find, the pairing might have come as a shock. But there it was when the National announced their latest collection, First Two Pages of Frankenstein: an opener featuring their old pal and sometimes collaborator Sufjan Stevens, two tracks featuring Phoebe Bridgers, then "The Alcott" with Swift. No matter what else happened with the group's long-awaited comeback, this song would be an event.
"The Alcott" began as a sparse piano track that Aaron Dessner gave to front man Matt Berninger. After Berninger wrote a vocal, Dessner thought about sending it to his friend and folklore collaborator. He anxiously waited 20 minutes for her to reply, thinking he might have put her in a position where she would have to turn him down. Instead, she sent him a voice note with a fully formed contribution — her vocals wrapped around Berninger's and new lyrics changing the angle of the song. The band built up an arrangement and finished it from there.
"The Alcott" is one of the most beautiful moments on First Two Pages of Frankenstein, but it also feels like a rupture in reality. This is not like past National features, in which you might have to strain to hear other (quite notable) names such as Sharon Van Etten somewhere in the layers of a song. When Swift's voice enters, it's unmistakable and far from buried in the mix. Initially, she follows Berninger's existing melody, but when they get to the chorus, she swoops around him. What starts as a National song by the end (almost) sounds like Swift's while still cohering as a proper duet.
Ahead of First Two Pages of Frankenstein's arrival, we called up Dessner to talk about how the song came to be and how his work with Swift has impacted the National.
How finished was the song when you sent it to Taylor? How much rearranging happened after she contributed her part? 
It was in the late stage of making First Two Pages of Frankenstein. We had so much music we had been working on. There were, like, 25 ideas. To be honest, it wasn't the kind of song we intended to write for the record. We had been making a lot of other things — up-tempo or loud rock songs. This was more my version of a Leonard Cohen or a Nick Cave song. Then Matt wrote this beautiful song to it, and it suddenly felt like this might be the one I could share with Taylor.
We hadn't even talked about inviting her to be on the record, partially because no one was on the record at that point and, also, I never want to put pressure on anybody unless it really makes sense. But there was something about that song I thought she'd really respond to. She quickly rewrote it as this conversation or dialogue between two lovers. That helped shape where we went with the production of it. We added a lot of the other elements — the orchestration and the drums. We always experiment and try a lot of things. I think when she first heard it, it was just piano and Matt.
Had you gone into the studio thinking about asking her to contribute something? 
We've been collaborating so consistently since folklore that I think it's natural. She loves the National and had heard a lot of what we were working on. I'd send it to her. I wasn't openly saying, "I'd love if you could do something," and she wasn't saying that either. It'd just depend on the song. Before I sent it to her, I talked to Matt, and he agreed it might be the one to see if she had ideas.
There's a long history of the National opening up to other people and benefiting from it. Back to even the very beginning of the band, there's always been these other people who influence us and help solve riddles. It was like that. You're lucky when you happen to have a friend who is one of the greatest songwriters ever — and fast.
The National are no strangers to collaborations. I often perceive it as being one more texture in very dense arrangements. Then on I Am Easy to Find, you went in the other direction, and there were a few songs where Matt ceded lead-vocal duties entirely. This strikes me as a first: a straight-up duet with Taylor's touch being very prominent.
There's a clarity in her ideation and her lyricism and her sense of melody. It cuts like a knife. Compositionally, it's very intentional. Her countermelodies in the chorus and the bridge — it's like two lovers almost talking over each other. It's something that's much bolder than someone singing along or just harmonizing. That is her gift: She has a storyteller's mind and a musical sense of boldness.
Something about her phrasing … you can hear it even in the original voice note. She's not coloring it in; she's fully another character in the story. It makes sense. In the verse, Matt is talking about finding someone and they're writing in their golden notebook. In a way, I was like, Is that Taylor? Who is it? Or is it some fictional character? She inhabits this story as her own character. That makes it a true feature.
This is not the first time they sang together — he was on "coney island" on evermore. She sang on a song from your other band, Big Red Machine, in 2021. Was bringing her into the National's world different than those other collaborations? Were you more nervous?
I wouldn't say I was more nervous. It does feel like the National is this dysfunctional band of brothers, and I feel like my and Taylor's work has been much more focused. Big Red Machine is not a typical band dynamic. But in another way, the whole reason I know Taylor is the National and her being a fan. It felt very natural. I think we're one of her favorite bands, and she has inspired us.
This is the first time you're doing a National album after folklore and evermore. Having spent that time in her world, did that experience change your ambition with the National? Did it make you think about what else might be possible with the band? 
We all went away from it for a long time. I did all this work. I really had such an amazing experience and learned so much. I think, coming back to the National, there was a feeling that everyone was leaning in in a different way, because we were missing it and also because we were appreciating each other. It was a difficult time during the pandemic. To find the thread again … Taylor had said this. Around the time we were working, she was asking me about the National and I was saying, "I don't know where we are." She kind of predicted we'd come back and lean on each other and make our best record.
That's, to me, how it feels. All the DNA of the band, and some future version of it, the evolution of it — it's in there. People always debate our records. No matter what, we have collections of ugly ducklings. We're never going to write a perfect rock song. We're never going to do the thing we set out to do. All we can do is this uncovering of these awkward songs. They grow on us and grow on other people. It takes a while to hear them, and that's what makes them special. They feel sculptural eventually, but when we first do it, it's like, Are we even a good band? [Laughs.] I feel really proud of it, and I feel like we did benefit from things we learned with other people, but I also think the well filled up again and we had a lot of creative energy.
I think the song is one of the most striking, exciting moments on the album, but it also seems like it has the potential to be quite divisive within your fan base. Was that ever a conversation — whether it might be too much for the record and should be a stand-alone single or something instead?
In the beginning of the National, the '90s-era indie bands we idolized … you can't imagine Pavement or somebody back then collaborating across the pop sphere. But I think that's changed so radically. Like Taylor, she's more hands-on and craft oriented than anyone I've ever met. I never felt like she was a major-label superstar. Working with her was not unlike working with an indie artist. In actual fact, she's one of the biggest artists in the world, but the connections and musical chemistry that were organically there make it work and make it make sense. Yeah, it's great to think her fans might hear our band. I know a lot of our fans fell in love with her music.
I'm personally tired of that feeling, indie or alternative — it doesn't mean anything anymore. A lot of my favorite music is on giant labels. Some indie labels operate like major labels now. It's a blurry thing. If someone's making something authentic and is an amazing artist, I would appreciate and collaborate with them regardless of genre walls. I know certain parts of our fan base will maybe … it's the same thing as our records: It's never going to be what everybody wants. We have no interest in that. And honestly, it kind of bugs us sometimes. Nobody's resistant to any of the guests, but I think sometimes people would love it if we'd make exactly the kind of record they want to hear. But the only kind of record we can make is what the five of us manage to create and feel is compelling.
It took us a little while to figure this interview out. It seemed there was a bit of an aversion to focusing on the Taylor song. I was curious — was there a concern of preserving the mystery of it ahead of release? Or a worry it could overshadow the rest of the album? You've set up a comeback era, talking about First Two Pages as an "ultimate" National album. Then a Taylor Swift duet is a pretty loud headline.
Only in the sense of like … she is by far the biggest artist that's part of the record. It's important to allow the record to be itself and hear the song in context. Of course we had to be careful to not let it leak. It's just the reality of her life; people constantly try to get her one way or another. Any shred of information about her is catnip for the media. The glare can be quite intense, so as a friend, we do try to be really sensitive to how much, and in what ways, we shine that light. With this song, it made more sense to let it be part of the whole record rather than pulling it out and being like, "Here's the Taylor song."
You mentioned an abundance of music, including more rock-oriented songs. You guys also talked about releasing a double record at one point, before tailoring it down to this incarnation.
There's at least another record's worth of album-quality songs. Most of them are as good as anything on this record. We will do something with the other material. You can hear bits of it, like "Eucalyptus" or "Grease in Your Hair." You think it's going to be rock, or somebody will say something, but in reality it'll be quite different. It'll go to a different emotional place. We sound like ourselves, you know what I mean?