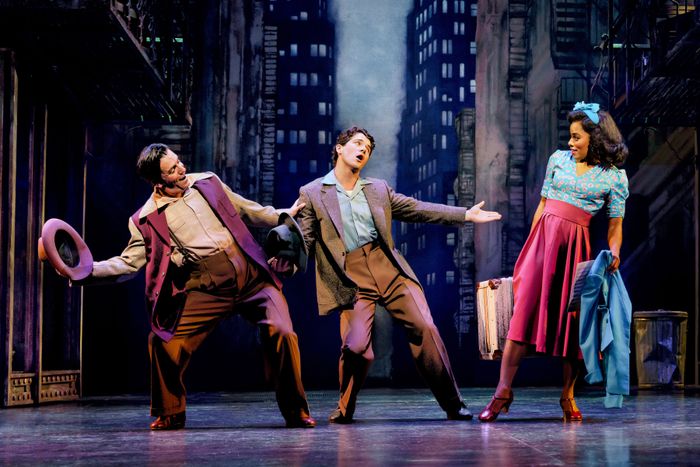 From
New York, New York
at the St. James.
Photo: Paul Kolnik
By my count, the actors in New York, New York say or sing the words New York 16 times before they get to the title song — which, start spreading the news, is the show's grand finale — though it feels like hundreds. Nearly every exchange in David Thompson and Sharon Washington's book involves a discussion of the city. We hear that "New York City is the greatest social experiment," that "everybody in New York is here to do something they can't do someplace else," that "New York is a major chord." Plus there's a lot of ragging on other areas of America, including Philly ("a minor chord"); Memphis; Cleveland; Los Angeles; Natchez, Mississippi; Texas; and, of course, New Jersey. This is not a show in which, as you might say about After Hours or Home Alone 2, the city is another character in the drama. The city is pretty much the only character, forcing everyone else into supporting roles. But the New York you see onstage is being so thoroughly overvenerated that it barely resembles a real place. (Baudrillard would have a wild time at the theater with this one.) Watching the actors spout aphorisms — one experiences "New York luck," a concept with which I'm not familiar — I started to wonder if I actually live in the same place they did. What is this glorious Xanadu? Is this all related to Eric Adams's emoji-based tourism campaign?
Nominally, New York, New York is a love story involving a boy, a girl, and the big city. The musical is very, very loosely inspired by the 1977 Martin Scorsese film New York, New York, starring Robert De Niro and Liza Minnelli as a saxophonist and a singer involved in a tumultuous love affair. That film was also the origin of "New York, New York" the song — it is officially titled "Theme From New York, New York" — which is written by De Niro's character for Minnelli's. John Kander and Fred Ebb (then, just after Cabaret and Chicago) wrote it in a 45-minute snit after De Niro demanded better than what they had initially come up with. Soon, via Minnelli and Frank Sinatra, it went on to become a staple of New York sports home games. The musical retains that standard as well as "But the World Goes 'Round," and it keeps the names, post–World War II setting, and rough configuration of the main characters, but it quickly turns into its own thing. Now it's Colton Ryan's Jimmy Doyle wooing Anna Uzele's Francine Evans, among a group of other characters chasing their dreams, including a Black trumpeter from Mississippi (John Clay III), a Polish violinist (Oliver Prose), and a Cuban drummer (Angel Sigala). The musical contains a grab bag of trunk songs by Kander and Ebb, new songs they worked on together before Ebb's death in 2004, new work by Kander working solo, and new songs with lyrics from the eternal New York cheerleader Lin-Manuel Miranda (picking up where Hamilton's Schuyler sisters, praising "the greatest city in the world," left off). Susan Stroman, who worked on a similar Kander-and-posthumous-Ebb project in The Scottsboro Boys, directs and choreographs, providing a series of scene transitions that are little vignettes of city life.
With that level of talent involved, what could go wrong? A frustratingly large amount. The crucial flaw is in Jimmy and Francine's story line, which theoretically would bind the show together but is underwritten and underperformed. Jimmy, we're told, is an inveterate talker and drinker, charming despite his impulsive tendencies, but he's never believably in a grim place for long. Ryan, as Jimmy, is also too boyish and squeaky clean to be taken seriously, reminding you of a high-schooler trying to play Sky Masterson. He and Uzele's Francine flirt well — there's a fun number in which he shows off his ability to play an orchestra's worth of musical instruments — but their dynamic never escalates and becomes romantic or erotic. Uzele, with an expansive voice and regal bearing that reminds you she was just in Six, is often similarly reserved. So much keeps happening to Francine — she is picked up to perform on the radio and then somehow almost immediately gets a part in a Broadway show — that she is perpetually reacting to things. You might look to the supporting characters to take up the slack, as they often do in musicals, but they are also frustratingly generic and predictable with plots that touch on everything from homophobia to the horrors of Nazi Germany only at the surface level. Emily Skinner, playing a violin teacher with a concert career behind her, is often sighing at the side of the stage. With that I could relate.
Without compelling characters in which to invest, New York, New York is like a bunch of pearls without a string. It looks great, with maximal sets by Beowulf Boritt that carry the action everywhere from Central Park to a sun-dappled Manhattanhenge to a grand vista of the Brooklyn Bridge (we are, of course, always in Manhattan), and Stroman ensures that it moves well within each moment. But it has no momentum. There's a showstopping sequence in the first act in which Clyde Alves, as Jimmy's Italian best friend, Tommy, leads a tap dance atop the steel beams of a skyscraper under construction. The problem is that moment, like so many other spectacular sequences, comes with little storytelling justification. In the song, Tommy is encouraging Jimmy to ply Francine with wine and peaches (that's the song title: "Wine and Peaches") to win her over, and the scene takes place a few hundred feet in the air because it's cool and makes reference to a famous photo, I guess? Similar trips follow to some tourist spots, like Grand Central Terminal's whispering gallery, the Metropolitan Museum of Art, and Carnegie Hall, all because Jimmy and Francine nominally need to be there for some reason or other. (I started to worry one of them would suggest dropping by a 1946 version of Magnolia Bakery.) The book resembles the warped structure of a jukebox show because it bends itself around to accommodate those key trunk songs and garage all these locations. Everyone's here to play the hits, musically and municipally.
There is nothing wrong with a little New York boosterism. This show has more than a little — and a frustrating lack of critical perspective. In New York, New York, the city's starting to return to itself after the war, and the musical's marketing has leaned on the implied similarity between that era and our own recovery from the pandemic. It's a worthy cause to get people excited about city life again, but it's hard to embrace the run of clichés on offer. I wanted something more historically grounded and nuanced — what was it about the postwar boom that made the city succeed? — or, at the very least, with more grit. Give me some rats, some City Hall cronyism; evoke the stink of trash on an August day. There are acknowledgments of tensions among racial and ethnic groups and neighborhoods ("Everybody lives here. And everybody's natural enemy lives here. And we manage not to kill each other — for the most part") but no deeper thinking about their structural causes (and often the questionable justification comes up that the rest of America is more bigoted than we are). There's a little swearing, like a neighbor shouting "Shut the fuck up!" at Jimmy and Francine when they profess their love right before intermission, but even that's of the cuteified, "'Eyyy, I'm walkin' here" variety. It has a recurring metaphor of a major chord, elaborated upon in a Kander song in which Jimmy tells Francine that what you need in the city is music, money, and love — a phrase that's just too corny to come out of the mouth of a character we're told is the quintessential New Yawkah. I may have grown up in L.A., but I was led to believe, even by the broadest of pop culture, that being skeptical and cynical were key New York values, too.
For all the musical's insistence on the city's vitality, it's glassy-eyed and complacent. It looks to old tropes and standards. You hear the tinkle of the famous bah-bah buh-buh-buh vamp from the title song right at the top of the show, and it keeps popping up again like the shark fin from Jaws until, finally, it rises up and devours everything during a group sing-along at the curtain call. We're here to see New York, New York, in quotes, just as it appears in the name of the song. It's discomfiting, as you watch this musical, to see the city scrubbed, packaged, then sold back across the stage to an audience paying Broadway-ticket prices. But of all people, they can afford to buy into the idea that New York's a cuddly utopia.
New York, New York is at the St. James Theatre.