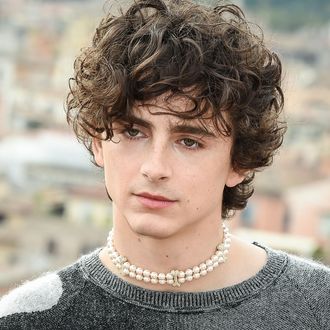 Le chanteur.
Photo: Marilla Sicilia/Mondadori Portfolio via Getty Images
Timothée Chalamet can sing. Are pop boys and theater giants thanking the stars for making Chalamet an indie darling instead of a Disney Channel all-rounder like Zendaya? The jury is out on that one. Had the Dune actor decided on a path of singing, would he have left people jobless? Depends on whom you ask. But one thing is certain: He has sung before. And he'll sing again, stretching his vocal chops in the upcoming Bob Dylan biopic, A Complete Unknown, as the Nobel Prize–winning musician. "It's such an amazing time in American culture and the story of a young, 19-year-old Bob Dylan coming to New York with like two dollars in his pocket and becoming a worldwide sensation within three years," director James Mangold recently said in an interview with Collider. "It's such an interesting true story and about such an interesting moment in the American scene." Mangold then confirmed that, "of course," Timmy would be doing his own singing for the film, which begins production this summer. You may be thinking to yourself, Why on earth would they let him sing? So below, let's settle it once and for all, going back into Chalamet's long and storied history of singing.
Exhibit A: "Sweet Charity"
Chalamet had all the girlies gagged with his role as Oscar Lindquist in the Concert Hall at Fiorello H. La Guardia High School production of Sweet Charity.
Exhibit B: "Everything Happens to Me"
He starred in a Woody Allen movie that was barely released in the United States on account of Allen's allegations of sexual misconduct and child abuse. Chet Baker did it better, but Chalamet is for sure singing here.
Exhibit C: Wonka
When Chalamet filmed the upcoming Wonka movie back in 2021, fans caught him flexing his vocals on candid camera. After watching the clip, I can confirm he is, in fact, singing while sitting atop a moving vehicle.
Exhibit D: "Tiny Horse"
His best vocal performance to date.
Exhibit E: "Yeet Skrt"
He rapped live on TV — because he is a rapper as well as a singer.
Exhibit F: Miss Stevens
This movie came out in 2016, a year before his breakthrough in Call Me by Your Name. I don't know what it's about, but the clip itself proves he can also sing inside a moving vehicle.
Exhibit G: Lady Bird
Chalamet doesn't sing here, but this video shows he's had roles in which his character is in a band.
Exhibit H: "Roman's Revenge"
Chalamet's known rap career did not begin with his SNL sketch with Pete Davidson. The rapper began fine-tuning his craft with his performances in high school. This video is the second one that proves his vocals extend to rapping as well as singing. And that he is, or was, a known Barb.
Exhibit I: "Hell's Kitchen Bed"
His best original rap composition. Lyrics include "Homeland, Homeland / It turned into Domeland / Mean I'm getting dome on the daily" and "His shit is flaccid / My shit go hard." (He had a role in the Showtime series Homeland back in the day.)
Exhibit J: "Itty Bitty Piggy," "Boyfriend," and "Gangnam Style" Medley
​​This singer-rapper can also produce a well-curated set.
Exhibit K: Untitled Composition by Tiny Tim & Sixth Period Lunch
Even in 2011, he did his own vocals.
His biggest hit to date.