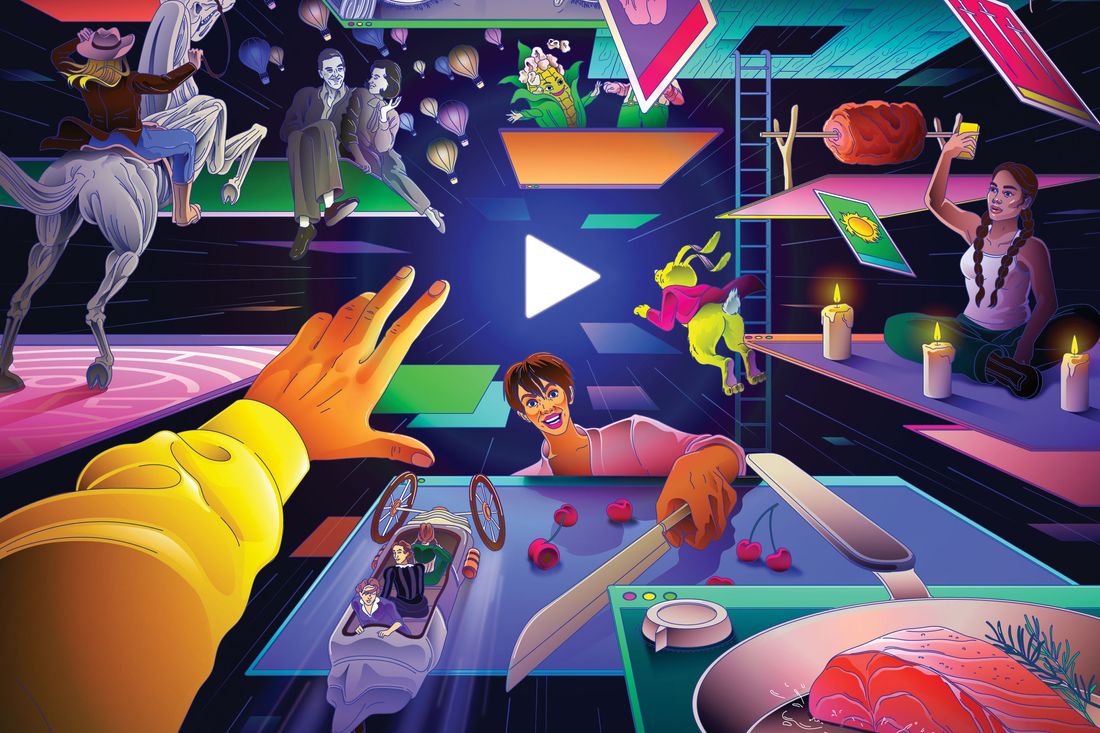 This article was featured in One Great Story, New York's reading recommendation newsletter. Sign up here to get it nightly.
In February, as roughly 110 million football fans sweated out the final quarter of Super Bowl LVII, TV sets across America simultaneously switched away from the big game. Instead of hearing Fox announcers Kevin Burkhardt and Greg Olsen, bewildered viewers watched as a phantom force appeared to hack their screens and begin scrolling through the tiles of a standard-issue streaming app. Only when the invisible hand clicked PLAY on the 2005 Brangelina classic Mr. & Mrs. Smith did viewers realize they were watching a clever promotional spot for Tubi, Netflix's geekier, freakier, and totally free rival.
The ad, along with an earlier one featuring a human-size hare, was a wink at the streamer's value proposition: its deep rabbit holes of eclectic films and series that, loyal users joke, have a tendency to swallow up your whole day(s). Instead of sinking billions into blockbuster projects boasting instantly recognizable faces, Tubi has spent the past decade quietly assembling a massive collection of movies and TV shows, sourced from virtually every major (and minor) studio out there and covering almost every conceivable genre. Just popped an edible and developed a hankering for a horror-comedy with ninja warriors and a priest who turns into a dinosaur when he's angry? Tubi's got something for you (it's called The VelociPastor). Into underappreciated Black sitcoms of the '70s that weren't produced by Norman Lear? There's That's My Mama, featuring eventual TV icons Clifton Davis (Amen) and Ted Lange (The Love Boat). A recent Onion headline perfectly captured what it's like to spend an hour scrolling through the site's digital aisles: "Tubi CEO Combs Through Goodwill Used DVDs Looking for Movies to Upload."
Its newfound mainstream brand awareness mirrors the broader rise of free ad-supported streaming TV (or FAST), which has been steadily building the past ten years and started to skyrocket around 2020, when pandemic lockdowns sent audiences looking for more entertainment to watch. Tubi and its chief challengers in the space — Pluto TV, the Roku Channel, and Amazon's Freevee — are connecting with subscription-wary consumers who want the volume and variety offered by cable without the monthly bill or the commitment.
Tubi's dedication to the notion that no audience niche is too small to fill, combined with an almost cultlike fan base that generates memes both praising and (lovingly) roasting the brand, has helped it break out. Company founder and CEO Farhad Massoudi debuted Tubi in 2014; at a time when subscription services from Netflix and Amazon were hailed as the future of television, Massoudi swerved, betting there was room for a streaming model in which programming costs were supported by advertising — just as broadcast TV had been since the middle of the last century. He envisioned Tubi as not just a Netflix competitor but an alternative to the idea of paid streaming. Focusing exclusively on free content set Tubi apart from the pack: Everything Tubi offered at launch (it was even more niche then) could be streamed without a credit card or even creating a user account. It wasn't the first attempt at ad-supported streaming — Sony launched the much less ambitious Crackle in the mid-aughts — but it was arguably the most fully realized, built to take advantage of the then-emerging smart-TV marketplace.
Tubi has since become a serious contender in the streaming wars. Just before the pandemic hit, and one year after the slightly older Pluto TV was acquired by Viacom for $340 million, Rupert Murdoch's Fox Corporation swooped in and paid $440 million for Tubi. It kept Massoudi in place as CEO and gave his platform access to opportunities that were once unthinkable, like those Super Bowl ads (technically free, as part of the Fox family) and a wider network of content partners. So in addition to WTF? shows and movies, Tubi now houses more current major releases (the It movies, Booksmart), new episodes of unscripted Fox hits like The Masked Singer, and Fox Sports events (such as replays of this past fall's FIFA World Cup). It also added hundreds of live channels, including news from dozens of local TV stations across the country.
In total, Tubi says, it has more than 50,000 titles — nearly eight times the estimated number in Netflix's U.S. catalogue. While the big dogs still license older TV shows and movies, that tactic is far less vital to their overall strategy. Indeed, companies such as Warner Bros. Discovery and Paramount Global have started slimming down their marquee streamers' catalogues, removing even newer originals that insiders at the companies claim subscribers simply aren't watching; HBO's Westworld and The Nevers now live on Tubi's Warner Bros. TV–branded channels.
Currently, Tubi has more than 64 million monthly active users and recently landed a spot on the Nielsen monthly ranking of streaming services for the first time, not far behind the much better funded Peacock. The median age of its viewers is 39 — dramatically lower than broadcast networks, where prime-time audience age ranges from a "young" 57 (Fox) to a Social Security–eligible 64 (CBS).
Tubi makes various audience niches feel as though the platform was created just for them by ensuring it's offering hundreds of titles in its most popular genres instead of the handful of shows or movies other services offer. This past summer, it hired a new chief marketing officer who shook up how Tubi went about promoting itself to audiences. Nicole Parlapiano, formerly of Tinder and WeWork, decided the streamer's focus on its price (or lack thereof) was no longer sufficient enticement. "Free is not exactly the most compelling value proposition when other people are offering it," she says.
After doing a deep dive into social media to see how audiences were interacting with Tubi, Parlapiano realized the platform's untapped power was how heterogeneous its users are. "I found communities that were really engaged in horror on Reddit and pockets of TikTokers that were really into Black noir," she says. "And a lot of the conversation was around people being surprised to find something they don't think they could find anywhere else."
While Tubi execs insist no one category of viewer is driving growth, chief content officer Adam Lewinson says that "roughly half of our audience identifies as multicultural." In February, nearly half of the platform's viewers watched programming from "Black Cinema," one of Tubi's fastest-growing categories. Not surprisingly, 21 percent of Tubi's overall audience in 2022 was Black (versus around 14 percent of the general U.S. population).
Lewinson pays close attention to which types of content are overperforming so he can find more library titles to funnel into those verticals and because the platform has started making its own originals, projects that aim to compete with what you'd find on a basic cable network (like the Gordon Ramsay–produced reality show Kitchen Commando) or on a genre streamer such as horror-centric Shudder. Tubi has partnered with indie studios to make movies with Black talent, including The Stepmother, in which Love & Hip Hop alum Erica Mena plays a woman who preys on recently widowed men. "She mates, she kills, then she goes on to find the next victim. It's been a huge success," says Lewinson, who, of course, ordered a sequel.
One way Lewinson has bulked up Tubi's originals portfolio is by seeking out already produced projects. That's how it landed the documentary Dead Hot, in which Vanessa Hudgens heads to Salem, Massachusetts, to explore her passion for witchcraft and paranormal activity. To get eyeballs on originals, Parlapiano microtargets "superfans and subcultures" most likely to treat a project as event viewing — for example, social-media influencers like TubiBae, who does reviews on TikTok. In the case of Hudgens's Dead Hot, "that's a documentary about her coming out as a witch, so we looked at a very active community on TikTok called WitchTok," Parlapiano says. "We are doing a more focused marketing effort for this film and inviting that community to embrace and ultimately promote it."
For the most part, Tubi's originals are on the lower end of the Hollywood budget scale: Its current slate includes the true-crime anthology Meet, Marry, Murder, hosted by Michelle Trachtenberg; a cartoon about '60s stoners living in modern-day San Francisco titled The Freak Brothers; and an upcoming animated comedy series called Breaking Bear that is exactly what it sounds like: a show about drug-dealing grizzlies. But the platform is looking to take some targeted risks with originals more likely to get critical love. It recently began production on the "dark western" The Thicket, starring Peter Dinklage and Juliette Lewis, and will premiere the Damon Wayans– and Pam Grier–led Cinnamon at the 2023 Tribeca Film Festival. The latter, from first-time feature director Bryian Keith Montgomery Jr., is a reimagining of '70s blaxploitation films and the product of Tubi's deal with indie studio Village Roadshow for its "Black Noir Cinema" collection. He was already a Tubi fan because of indie Black drama series such as McGraw Ave. and its ocean of obscure movies. "I still go to the video store, and Tubi has what I can't find there," he says, laughing.
That sense of discovery gets at what's driving the free-streaming boom. Netflix became beloved during streaming's early years in part because it really did feel like a sort of video nirvana where Marvel megahits, classic NBC sitcoms, and still-airing TV sensations coexisted for under $10 per month. That all ended when Disney and other conglomerates clawed back their biggest titles for their own streamers: Per industry analysts, more than half of Netflix's U.S. library now is its own originals, and any variety gets processed through an algorithmically assisted executive filter. FAST platforms feel like a throwback to the time when one or two services were all you needed to get your entertainment fix and the cost was so reasonable that subscribing was a no-brainer. Tubi is betting that a generation of cord-cutters who ditched cable — only to end up juggling multiple high-priced streaming services — is ready to rebel again.
Correction: A previous version of this article misstated that Helen Hunt narrates Meet, Marry, Murder on Tubi; she narrates the second season on Lifetime.