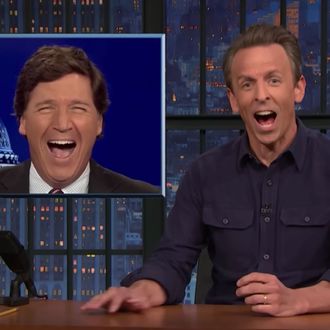 Don't threaten late-night TV's hosts with a good time! The good time, in this case, being the unexpected firing of eternally smug Fox News host Tucker Carlson from his show Tucker Carlson Tonight after seven years on the air. Carlson was fired on April 24, not long after the network settled a defamation lawsuit with Dominion Voting Systems for $787.5 million, sparked in part by Carlson's unfounded claims that the company played a role in rigging the 2020 U.S. presidential election. Don Lemon was also fired from CNN on April 24 in the wake of outrage about sexist comments he made on-air, but this was largely a footnote in the evening's slate of late-night monologues. The Late Show With Stephen Colbert is on hiatus this week, but TV's other late-night hosts all took the opportunity to say good riddance with jokes about Carlson's militant stance about the green M&M, his unsettling laugh, and his support for Russian president Vladimir Putin.
On Late Night With Seth Meyers, the host dedicated one of his signature "Closer Look" segments to Carlson's firing. Making intense eye contact with the camera, Meyers wondered aloud whether Carlson's departure meant that Fox News had gone the dreaded route of becoming "woke," uttering the word while over-the-top cackling, lightning, and thunder effects went off behind him. Meyers also mocked Carlson's array of bewildering facial expressions before making a larger point about the dangers of embracing Trumpism as a philosophy. "It was yet again another illustration of the core problem at the heart of GOP politics," he said. "He debased himself in service of Trump and it didn't work. All he'll ever be remembered for is devoting an entire segment to a piece of candy."
On The Daily Show, correspondent Desi Lydic kicked off her week as guest host by digging into the day's big news. "I can't believe a network that is so opposed to gender-affirming surgery just cut off their own dick," she quipped. "Tucker's firing is going to leave a huge white-power vacuum at Fox." Noting that Lemon had also been fired, she said, "It's been a tough day to be a news anchor on cable," before joking that she was also receiving word that she'd been fired and packing her belongings in a box.
"Hi, I'm Jimmy Fallon, one of the few TV personalities who's still employed," the host of The Tonight Show echoed in his monologue on Monday night. He proceeded to crack a couple of quick one-liners about the news. "When he heard, Vladimir Putin was like, 'Damn, we need a new PR guy,' the host joked. "Fox knows their viewers are going to miss Tucker, so until they find a replacement, his show will be hosted by a golf shirt with the collars popped."
Not to be outdone, Jimmy Kimmel also pretended to be fired during his Jimmy Kimmel Live! monologue Monday night. Guillermo handed down ABC's decree to Kimmel, who took the revelation in stride before continuing to host the show undeterred. The host called Carlson's firing an "absolutely delightful shock," and mocked Carlson's final on-air sign-off where he told viewers he'll be back Monday. "No, you won't," Kimmel said. "He came in on a lie and he went out with one, too. The good news is now Tucker can spend more time at home tanning his testicles and touching himself to that sexy green M&M."
James Corden, who is leaving The Late Late Show of his own volition on April 27, went the opposite route in his monologue, joking that Carlson and Lemon's departures were actually in response to his own show's ending. "They're getting out while the going's good," he said. "Soon, the only reputable news source in America will be gone on Thursday. It's us. …. We break the news; they just take the news!" He also joked that Carlson is running out of options for news networks to work at, noting that he's already been employed at and left MSNBC, CNN, and Fox News. In regards to where he'll go next, Corden has a theory: "Soon he's just going to be on the Weather Channel, saying that hurricanes are caused by drag queens."