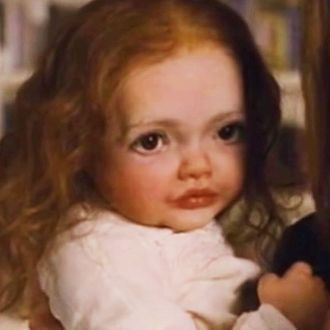 Her.
Photo: Summit Entertainment
For decades (okay, only one and a half), scholars have attempted to answer that age-old question: Where the hell has that loca Bella been? Well, with today's very breaking news, the answer will probably still not come, but at least we will potentially get another chance to ponder it. On April 19, The Hollywood Reporter reported the scoop that Lionsgate is in the very early stages of developing a Twilight reboot for television, and also that author Stephanie Meyer, "per sources," is expected to be involved. Now, while the news is very new, and Lionsgate Television denied to comment to THR, we can still dream up what our fantasy Twilight series might look like. We're not saying that the original Twilight films didn't get it 100 percent perfect the first time, but to ensure even further degrees of iconicity in future adaptations, here is a modest list of demands and requirements:
1. A gay sex scene that involves Charlie Swan
2. Real werewolves
3. Better wigs
4. An AI evil robot baby named Renesmee
5. Also a real baby named Renesmee
6. Less Mormon influence
7. A one-off episode (The Last of Us–style) following a normal day in the life of Forks High School's golden boy, Mike Newton
8. Authentic depictions of how vampires can swim for hours across a whole ocean (can they communicate with dolphins via echolocation?)
9. A plot in which Bella actually joins the high-school volleyball team and they go to Nationals
10. Jacob opens and runs a hair salon
11. More scenes at Port Angeles's best Italian restaurant, La Bella Italia
12. Change Jasper's backstory so he's not a Confederate soldier, plz
13. A season-long D-plot about Jessica and Angela trying to make it to glee-choir regionals
14. More than just one Black vampire
15. A Volturi orgy
16. More vampire leisurely pastimes, like baseball (I want to see them ski)
17. Bring Lee Pace back, ideally in the context of entry No. 1
18. Theme song by Evanescence
19. Buffy crossover episode
20. A battle between vampires and the Avengers
21. An answer to the question: Why are the Cullens spending their gift of eternal life going to high school over and over again when they can easily pass as young adults and have the financial freedom to do whatever they want? Are they creeps? What is this?
22. Smell-o-Vision (horny advancement in home-viewing technology)
23. Bring back my (Denali clan) girls
24. Dr. Cullen gets called in as the Pacific Northwest's leading doctor to help with a rare case at Mercy West
25. Cottage remodel
26. Billy is like, "I want to take my son-in-law fishin,'" and then Edward fishes by, like, reaching his hand in the water and pulling out salmons, and Billy is like :O
27. Spoons, Oregon
28. Recast Bella … so that Kristen Stewart can be series prop master
29. Good merch
30. Lesbians
31. Lydia Tár as a vampire overlord
32. Hear us out … Kieran Cullen
33. I was gonna say a real spider monkey, but I just looked up what they look like (ugly), and I'm going to be sick
34. Why do they look like that?
35. "Directed by Olivier Assayas"
36. A 30-minute episode that is just a montage of a vision from Alice in which she and Bella actually fall in love, but then Alice is like, "No!" and doesn't tell anyone and then spends the rest of the season working through metaphorical guilt
37. A brief Stephanie Meyer cameo in every episode, but she plays random roles
38. Bryce Dallas Howard resurrection