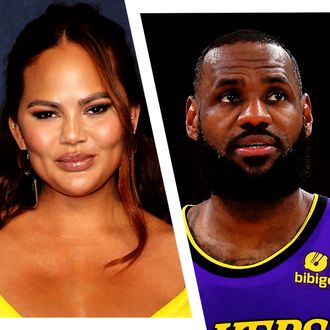 Prolific tweeters Chrissy Teigen and LeBron James.
Photo: Getty Images
Well, friends, the last time we were here talking about Twitter, Elon Musk had laid off a large number of people from the company, suspended Kathy Griffin for a brief while, and was trolling the internet daily, and people were literally sleeping in the Twitter HQ. Here's what has happened in the meantime: Musk went even more meta through his continuous dabbling in memes, took away the New York Times' blue check, revealed Twitter's code to the public, mimicked an AI image of the pope, attempted poetry, and announced a bunch of Twitter updates to come. The big alluded-to changes? Musk said that, starting April 15, "only verified accounts will be eligible to be in For You recommendations" in the Twitter feed. (One day later, he realized he'd missed something: "Forgot to mention that accounts you follow directly will also be in For You, since you have explicitly asked for them.") Confusing! The other big Twitter update that had people stressed (or relieved) was the removal of verified check marks for anyone — an individual, brand, organization, etc. — who doesn't pay $8 or more for Musk's 11th baby, Twitter Blue. It pissed everyone off, especially celebrities, so below is a roundup of the ones who tweeted that they are refusing to pay for it. Protest can be powerful.
Ian McKellen to blue check: "You shall not pass!"
Chrissy Teigen made it romantic.
LeBron James isn't "paying the 5."
Ben Stiller's blue check got the dodgeball ;).
Jason Alexander brought Earth into it.
Ice-T: "Fuck that."
Jason Isbell = comedian.
Ice Spice never needed a blue check.
Monica Lewinsky would like a word.
Stephen King will be "gone like Enron."
Dionne Warwick needs her lattes!
Jack Black is gonna call Musk's bluff:
Mark Hamill didn't get pranked … yet?
The White House to blue checks: Gurl, bye.
The New York Times and Musk have some personal beef, apparently.
Gabrielle Union knows a GIF speaks a thousand words.
Blockbuster simply can't afford this.
This is developing story.