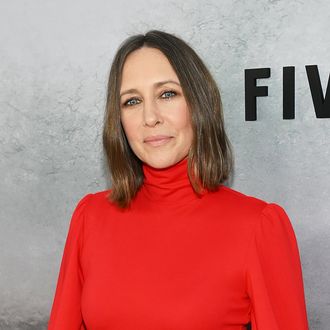 Photo: Michael Buckner/Variety via Getty Images
In The Conjuring series, Vera Farminga regularly talks to ghosts. But on her days off? She shouts at the devil. Farmiga performed Slipknot's "Duality" earlier this week, at a benefit for Woodstock, NY's Rock Academy. "This is for all the chin-pressers. All the eye-pushers. The skit-scratchers. The teeth-grinders," she said before her performance. "Anybody who's trying to cope with anything." As all true heshers know, Slipknot is by far the most emotional of the bands that may or may not align with the "nu metal" moniker. The horror masks and intense stage show obscure that the lyrics are often about depression, misanthropy, and substance abuse. Basically, about trying to cope with anything.
Farmiga's metal bona fides go back. This year she covered Iowa's favorite sons for the Rock Academy benefit, last year it was Black Sabbath's "War Pigs." And she duetted Iron Maiden's "The Trooper" with Scott Ian on the same night. Farmiga's family thrashes together, as she is married to former Deadsy synth player Renn Hawkey. Hawkey performed Echo and the Bunnyman's "The Killing Moon" at this year's show. Can't wait for next year's benefit, where hopefully Farmiga will duet with her Conjuring husband Patrick Wilson on Motörhead's "Overkill" or some shit.