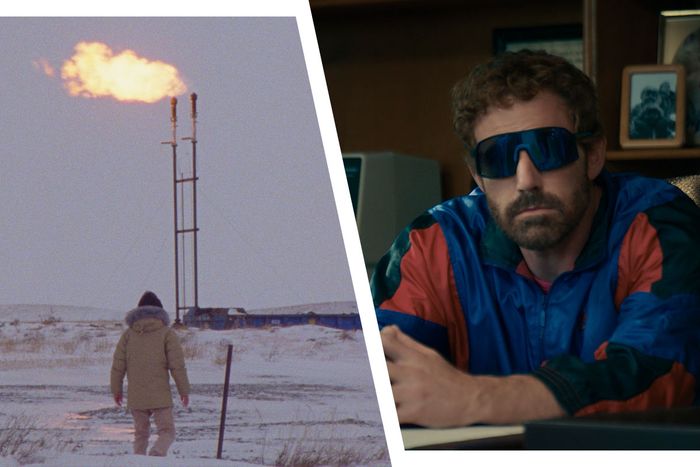 How to Blow Up a Pipeline
;
Air
.
Photo-Illustration: Vulture. Photos: Neon; Prime
It's-a me, Streamliner! Did you read that in a better Italian accent than Chris Pratt's? (I don't actually hate his vocal performance, but don't quote me on that.) The highly anticipated and fun(!) Nintendo movie kicked off an early weekend on Wednesday, along with Ben Affleck's shoe biopic as Hollywood decided that we do deserve a four-day break — but tell that to all our bosses. There's still more power-ups shows and movies to catch up on this weekend, so 3 … 2 … 1 … watch! —Savannah Salazar
Featured Presentations
.

How to Blow Up a Pipeline
Imagine Ocean's Eleven, except instead of George Clooney and a group of the suavest stars in Hollywood, it's a bunch of college kids. And instead of robbing a glitzy, breezy casino, they're doing ecoterrorism. Your mileage may vary on this film's politics (does it go too far or not nearly far enough??), but it's hard to deny it as a heist-thriller. It's a tight 104 minutes and a not-insignificant amount of that run time is spent waiting for various IEDs to go off. —James Grebey
➽ Spoiler warning, but would you believe that How to Blow Up a Pipeline is not the only new movie this week where somebody, uh, blows up a pipeline?
.

Air
Honorary Latino Ben Affleck is back in the director's chair, delivering a thoroughly entertaining film about Nike's attempts to court Michael Jordan. Of course, Matt Damon is along for the ride starring as Sonny Vaccaro, the basketball-outreach exec who tries to pitch his shoe idea to Jordan, and more so to his mother Deloris (played incomparably by Viola Davis). It's kind of hilarious to think that Affleck and screenwriter Alex Convery turned the premise of Nike making Air Jordans into such an engrossing underdog tale, but hey, what's good is good! —S.S.
➽ A 20-something wrote Air, while I, another 20-something, wrote about Air.
.

The Super Mario Bros. Movie
Everybody, including Vulture's review, is being mean to this movie. It's fine! It's fun! It's got Warp Pipes. Jack Black's Bowser is a hoot. It's the equivalent of picking Mario as your Mario Kart character: Not the most exciting option, but it'll get you to the finish line. —J.G.
.

Beef
Neither Steven Yeun or Ali Wong is unfamiliar to dark comedy, and this collaboration expands upon the mystery of the genre. After a road-rage incident between their characters in a home-improvement store's parking lot, Beef keeps upping the ante with a cascading series of lies and betrayals that the two inflict upon each other. The half-hour run time keeps the episodes snappy, as do the thoughtful interrogations of classism, the American Dream, and first-gen guilt. —Roxana Hadadi 
.

Schmigadoon! season two
The movie-musicals parody series returns with a new central focus — rather than the Rodgers and Hammerstein era, it's musicals of the '70s. This time, leads Cecily Strong and Keegan-Michael Key stumble into the darker world of Schmicago, which means maybe this season there'll be murders! —Kathryn VanArendonk 
.

Tiny Beautiful Things
In this new series based on Cheryl Strayed's book of the same name, Kathryn Hahn plays Clare, a disillusioned wife, mother, and author who gets recruited to write an advice column. If you think that dispensing advice might give Clare deeper insight into her own issues, all I can say is, "Spoiler alert." —Jen Chaney
Comedy Corner
Paint
Readers of a certain age probably remember seeing Bob Ross paint happy trees on his TV show The Joy of Painting in the '80s and '90s. Readers of a certain age might also remember when they made comedies and released them in movie theaters regularly. Well, Paint is a throwback to both eras, as this Owen Wilson–led IFC film follows a rivalry between two dueling TV painters. —J.G.
Double Feature
The Last Duel
Need more Matt Damon and Ben Affleck? Watch their and writer Nicole Holofcener's already underrated The Last Duel. Most of the buzz that year seemingly went to director Ridley Scott's House of Gucci, but the better of his two 2021 films was this one, an interestingly woven period piece about a 14th-century sexual assault. French noblewoman Marguerite de Carrouges (Jodie Comer) accuses a knight, Jacques Le Gris (played unnervingly by Adam Driver), the friend of her aloof husband (Damon), which leads the two men to fight to the death. It's serious subject matter anchored by incredible performances, including an utterly indulgent supporting turn by Affleck. —S.S.
➽ Ridley Scott blamed millennials who were "brought up on their phones" for The Last Duel's box-office failure, and even though that isn't true, I still feel some sort of guilt for letting Ridley down. Sorry, king, I'll be first in line for Napoleon on opening night. 
TV Graveyard
Ziwe
The power combo of Ziwe and Bob the Drag Queen seemed to be too much for Showtime. Maybe it's just team Spider-Man over Harriet Tubman. But whatever the reasoning, the network decided to cancel Ziwe's hilarious and slippery talk show ahead of a season three, leaving the internet distraught. It's an easy bet to say Ziwe will get back on her feet, but until then, we still have a variety of episodes to catch up on. Amber Riley saying nothing yet everything about Glee, a.k.a. Lea Michele? Patti Harrison and Bowen Yang explaining wealth inequality? Phoebe Bridgers admitting to appropriating dead culture? We'll miss it all. —S.S.
Want more? Read our recommendations from the weekend of March 31 or sign up for the Streamliner newsletter for even more to watch.