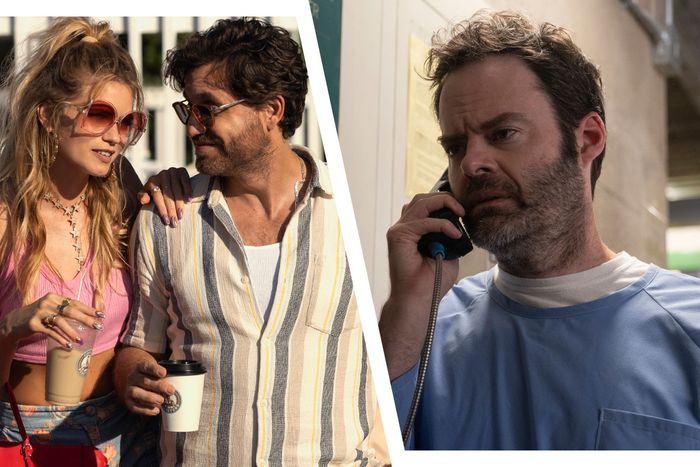 Florida Man
;
Barry
.
Photo-Illustration: Vulture. Photos: Netflix; HBO
Much like Count Dracula, Streamliner is back, and it can only be stopped by driving a stake through my heart. (Don't test that.) But, why would you want to banish us when there are so many new movies and TV shows to watch this week, including a Nic Cage–led vampire movie, the return of Barry for a final season of conflicted killings, and an anime master's latest spellbinding effort? So, read on to see what the weekend has in store. You might even laugh, because like Mrs. Maisel (whose fifth and final season just kicked off), we've got jokes. —James Grebey
Featured Presentations
.

Barry Season 4
This crime-dramedy has gotten better and darker with every season; sadly, its fourth is its last. Presumably it will bring some closure and finally resolve whether Bill Hader's Barry Berkman will face the consequences for his hit-man actions. —Jen Chaney
➽ Between The Last of Us, Barry, Succession, and, very soon, season two of Somebody Somewhere, HBO is on a roll. If I were an executive, I don't know if I'd be dropping the "HBO" from "HBO Max," but I guess that's why I'm writing this newsletter instead of making the big bucks.
.

Florida Man
Édgar Ramírez, who played Florida man Gianni Versace, is now the titular Florida Man, a play on the internet meme about the state's wildest news stories. The Claws–meets–On Becoming a God in Central Florida vibe could be fun if Ramírez commits to the southern Gothic atmosphere. —Roxana Hadadi
.

Suzume
Acclaimed anime director Makoto Shinkai's latest follows a teen girl and her adorable talking three-legged chair as they traverse Japan and close magic portals that threaten reality. It's equal parts playful and stunning: A goofy chair will gambol across a busy street in one scene, and in the next, a giant swirling worm will hover over Tokyo, threatening to crush millions of people. Shinkai balances the tones perfectly, just as he did in his 2016 hit, Your Name. —Eric Vilas-Boas
.

Renfield
Horror-comedy is a tricky genre blend, and far too often the result is neither funny nor scary. So the stakes are high for Renfield, which casts Nicholas Hoult as the count's long-suffering henchman. Luckily, there's one indicator that it will suck blood instead of just, you know, suck: Nicolas Cage is playing Dracula, a bit of casting that seems so perfect you're almost surprised it hasn't happened before. —J.G.
.

Mafia Mamma
Toni Collette has been your mother and now, she's your "mamma." Directed by Twilight's Catherine Hardwicke, Mafia Mamma follows an unassuming suburban mother as she inherits her grandfather's business in Italy amid a mob war in this B-movie comedy. —Savannah Salazar
➽ Sadly, Mafia Mamma does not have Twilight's iconic blue-toned filter.
Reality Bites
Love Is Blind Season 4 Reunion Special 
This run of Love is Blind has been delicious with drama. Now, the season comes to a head in its first-ever live reunion as audiences still have a lot of questions on Micah and Irina's foolery, Jackie and Marshall's unceremonious breakup, and whether Kwame and Chelsea are still together. It'll be interesting to see Nick and Vanessa Lachey try to wrangle all of this into a comprehensible discussion. Tune in Sunday, April 16, at 5 p.m. PT/8 p.m. ET. —S.S.
➽ Netflix wants you to watch [breaks out guitar like Kwame] the real thing, in real time.
Screams on the Screen
The Pope's Exorcist
Look, chances are you're either the type of person who is already planning on seeing an exorcism horror movie that's [checks notes] based on a true story, or you're not. But, if you're the rare person who is debating seeing this one, consider this: Russell Crowe certainly is doing some accent work. —J.G.
➽ Get Catholic schooled on perhaps the scariest religion (at least in the movies.)
Grand Finales
Marvelous Mrs. Maisel Season 5
Prime Video's awards darling is onto its final set — well, season — as Midge (Rachel Brosnahan) and her manager, Susie (Alex Borstein), continue to make-it-or-break-it in the comedy world. Unlike previous seasons, showrunners Amy Sherman-Palladino and Dan Palladino introduce us to an older Midge as the story closes out with flash-forwards into her future. Maybe you don't want to watch all of Maisel if you dropped out of it in past seasons (like me), but aren't you just a little curious to see where she ends up? —S.S. 
Literal, Not Channel, Surfing
100 Foot Wave
The first season of HBO's sports-documentary series was, despite being about people who feel compelled to go to Portugal and defy death by attempting to surf the titular 100-foot waves that slam into jagged cliffs, an oddly chill viewing experience. (A score from Philip Glass certainly helps.) The second season promises more of the same: The jaw-dropping force of nature is almost secondary to exploring the curiosities and quirks of the people who try to master it. —J.G.
➽ I could surf these waves, I just choose not to.
Make It a Double Feature
Vampire's Kiss
Okay, remember when we said it seemed like Nic Cage had to have already played Dracula before? He hasn't, but he has played a vampire before. Sort of. Maybe. Vampire's Kiss is a 1988 black comedy starring Cage as a man who believes he is turning into a vampire. It's one of the more unhinged Cage performances out there, which is saying something —J.G.
Want more? Read our recommendations from the weekend of April 7.