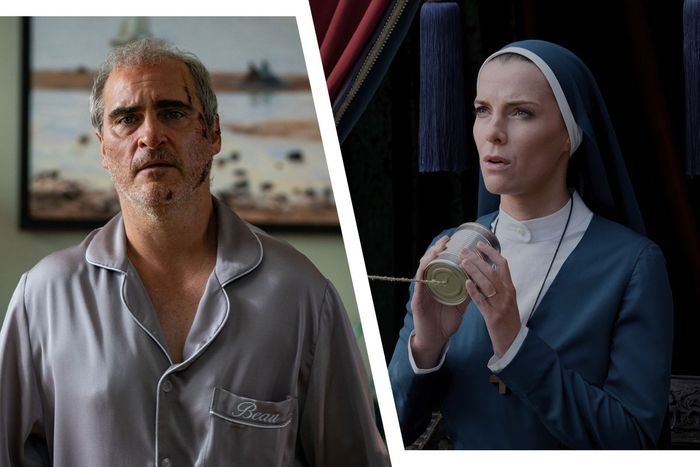 Photo-Illustration: Vulture. Photos: A24; Prime Video
It's a stacked week and not just because I finally get to see Taylor Swift this weekend and am letting everyone know it. There are plenty of television premieres (with Keri Russell and twice the Rachel Weisz) and finales — ranging from the good (Abbott Elementary) to the meh (The Mandalorian). Ari Aster brings yet another mindfuck to theaters, and a handful of Sony Spider-Man films complete Marvel's corporate-synergy machine by swinging to Disney+. There's a lot to get through in this week's best movies and TV, so let's dive in. —Savannah Salazar
Featured Presentations
.

Evil Dead Rise
Personally, I would not read from the Necronomicon, but lucky for horror lovers, yet another person has unleashed the Book of the Dead's demons on movie screens. Evil Dead Rise, the first film in the Evil Dead franchise since the 2013 remake/reboot, moves the action from a cabin in the woods to an apartment in the city. It is almost certainly going to be the most graphic and violent movie of the year. (You might never be able to use a cheese grater again.) —James Grebey
.

Mrs. Davis
This series, co-created by Tara Hernandez and Damon Lindelof, stars Betty Gilpin as a nun trying to live a life influenced by "the Algorithm" that has commandeered the existence of everyone else on earth. It's also about the Holy Grail, memory, and magic tricks and told in a nontraditional style that's kind of bonkers. —Jen Chaney
➽ I predicted every single outrageous twist, but I guess I'm just built differently.
.

Beau Is Afraid
You could call Beau Is Afraid the definitive look at Ari Aster's anxiety-riddled, mommy-issue mind, but honestly, Hereditary already dove into that. What makes Beau Is Afraid stand out is that — unlike the gory, ceaseless horror of Aster's first feature and Midsommar — his latest film, starring Joaquin Phoenix, has plenty of genuine comedic bits. I'm not as high on Beau Is Afraid as others, but I can definitely appreciate the ambitious scale of Aster's odyssey. Plus Patti LuPone is phenomenal — as usual. —S.S.
.

Chevalier
Directed by Stephen Williams (of Lost and HBO's Watchmen), Chevalier is a biopic of composer Joseph Bologne (Kelvin Harrison Jr.), a French Caribbean music prodigy who gets entangled with Marie Antoinette (Lucy Boynton). If lavish period pieces with a hint of Amadeus are your thing, Chevalier is worth your time. —S.S.
.

Dead Ringers
David Cronenberg's cult classic gets a genderswapped remake in this miniseries starring the inimitable Rachel Weisz, who plays twin gynecologists. Whether the show's emphasis on the business side of health care will work is up in the air, but Weisz has never turned in a bad performance — this time, we get two! —Roxana Hadadi 
➽ Mary-Kate and Ashley would never. (They could.)
.

Somebody Somewhere season two
If I can cry and laugh within the same half hour of TV, it's doing something right. Which means that in its second season — focused largely on Sam, a middle-age woman trying to find herself in the wake of her sister's death and aided by high-school friend Joel (Jeff Hiller) — Somebody Somewhere is still good. —J.C.
The Diplomat
From one of the minds behind Homeland and The West Wing, this series follows a no-nonsense ambassador to the U.K. who helps handle an international crisis. It's always a joy to watch Keri Russell tear into someone, so let's hope for moments of tactlessness too. —R.H. 
Cinematic Universes Collide
The Spider-Man movies on Disney+
The web of corporate IP ownership and licensing deals is twisted, so leave it to everyone's favorite web-slinger to find a way to disentangle it. Sony, which controls the Spider-Man film rights, is making several of them available to stream on Disney+. Sam Raimi's Spider-Man trilogy and the Andrew Garfield–led Amazing Spider-Man films are on Disney+ as of this weekend. (Venom and Spider-Man: Homecoming will join in May, and additional Sony movies, presumably including Far From Home and No Way Home, will be available later this year.) —J.G.
➽ And yet The Incredible Hulk is still the MCU's odd movie out. No huge loss — but still.
Grand Finale
Abbott Elementary season two
Some people are dedicated week-to-week watchers, while others — like me — love to watch Abbott Elementary in delightful little batches. For the latter group, it's a perfect time to tell you that the entire second season is ready to stream for a binge (or rewatch!), and it's no surprise that, like its first season, the past 22 episodes have been an absolute hoot. Homework assigned! —S.S. 
➽ Meanwhile, The Mandalorian's season-three finale happened. If you asked me what went on this season, I couldn't tell you.
Double Feature
C'mon C'mon 
Maybe Joaquin Phoenix will eventually be best known for Joker, Her, or even Beau Is Afraid, but one of his most profound performances so far is in Mike Mills's C'mon C'mon, a movie that made me cry nonstop. Mills's A24 drama is about an audio journalist who takes care of his young nephew Jesse (Woody Norman) while the boy's mother (Gaby Hoffmann) goes through an emotional ordeal. It's a tender, soft-spoken film that sings with Phoenix's empathic approach toward every actor onscreen. —S.S.
Want more? Read our recommendations from the weekend of April 14.