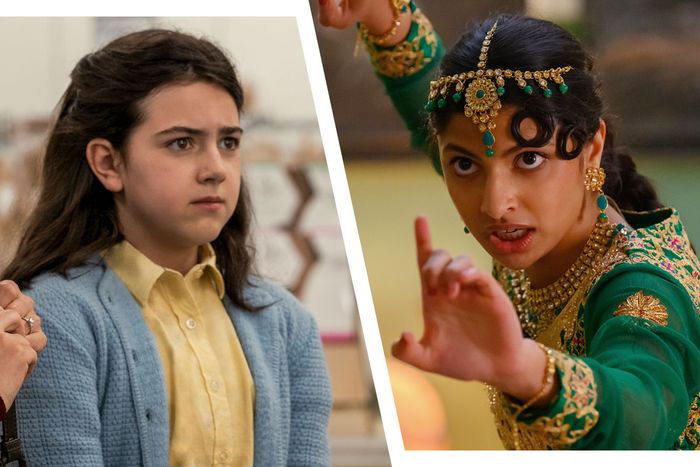 Are You There God? It's Me, Margaret
;
Polite Society.
Photo: Lionsgate; Focus Features
Are you there, reader? It's me, Streamliner, Vulture's weekly watching guide. The film adaptation of Judy Blume's beloved coming-of-age novel is the biggest new release this weekend. It's going to be one of the only weekends for … a long time … that won't be headlined by a giant summer blockbuster, so enjoy it while you can if massive CGI-dependent action flicks aren't your thing. (Although … I've heard the special effects used to bring the character of God to life in Are You There God? are Avatar-level.) We've also got an erotic television adaptation of an erotic thriller, Elizabeth Olsen doin' some axe murder, and some friendly amphibians. Here, the best movies and TV shows out this weekend. —James Grebey
Featured Presentations
.

Are You There God? It's Me, Margaret
Judy Blume's acclaimed novel is finally being adapted for the big screen after more than 50 years on the shelves, and it's about damn time. Are You There God? It's Me, Margaret. is absolutely precious as its eponymous lead (played brilliantly by Abby Ryder Fortson) navigates the throes of puberty and tweenhood. A wonderful Kathy Bates, Rachel McAdams, and Benny Safdie round out the cast as her family, who move from New York to New Jersey. Margaret joins a secret club, contemplates religion, and has a crush. It's a perfect palate cleanser when other movies in theaters right now include Evil Dead Rise, Beau Is Afraid, and Sisu. —Savannah Salazar
➽ We ranked the Margarets. Seemed like a good use of our own godlike powers.
.

Fatal Attraction
One of the most-talked-about films of 1987 is being remade as a television series. Joshua Jackson plays the happily married attorney Dan Gallagher, and Lizzy Caplan is Alex Forrest, a professional acquaintance who becomes his mistress. In this version, Dan may face some actual consequences. —Jen Chaney
.

Polite Society
We Are Lady Parts creator Nida Manzoor makes her big-screen debut with an endearing action dramedy about London teenager Ria Khan (Priya Kansara), who decides to use her fighting skills to save her older sister from marrying into a prominent but suspicious family. —Alison Willmore
➽ I guess younger sisters are right sometimes. Signed, an elder sister.
.

Saint X
Based on a novel by Alexis Schaitkin echoing the Natalee Holloway case, this drama uses multiple timelines to depict what happens after a white woman goes missing on an island resort. Everyone's a suspect, and Saint X cycles through their perspectives to probe at how race, class, and gender influence criminal investigations. —Roxana Hadadi
.

Love & Death 
Elizabeth Olsen as a housewife with a secret? I'm getting déjà vu. But in all seriousness, Olsen's performance in Love & Death is nothing but a knockout. Based on the Texas Monthly article (and later novel) written by Jim Atkinson and John Bloom, the latest series from David E. Kelley and director Lesli Linka Glatter depicts the love affair between two churchgoing couples in a small Texas town. Olsen stars as Candy Montgomery, the woman who murders her lover's (played by Jesse Plemons) wife, Betty Gore (Lily Rabe). It may come soon after Hulu's Candy, which told the same true-crime story, but after one episode, you can already tell Love & Death is the more stylized, expensive, and — most important — entertaining TV adaptation. —S.S. 
➽ Unfortunately, Love & Death does not have a catchy theme song written by the Frozen songwriters. Let it go.
Couples Therapy
The best docuseries on TV once again features therapist Dr. Orna Guralnik and a slate of couples working through relationship issues. The fact that this new season includes a queer couple attempting to navigate polyamory and an ex-Mormon couple trying to navigate their new lives outside the church? That's unscripted TV gold! —Kathryn VanArendonk
Citadel
This spy show from the Russo Brothers already has a second-season renewal and international spinoffs in the works. It's been described as an Avengers-style series with spies from around the world working together against a common enemy. Given their work on Captain America, the Russos certainly know the material. —R.H.
➽ Enjoy human-made content while you can!
Frog and Toad
Arnold Lobel's characters Frog and Toad join the slate of Apple TV+ children's programming, voiced by actors Nat Faxon and Kevin Michael Richardson. Impressive comedians — including Margaret Cho, Aparna Nancherla, and Yvette Nicole Brown — voice the other roles. —K.V.A.
Slashing and Streaming
Scream VI
Ghostface did what so many horror icons do and took a stab at the Big Apple in Scream VI. If you can make it there, you can make it anywhere — and Paramount+ counts as anywhere. In the event that you missed this one while it was in theaters, you can stream it now without having to get on the subway, because you never know if Ghostface will be in your car. —J.G. 
Neverland Beckons
Peter Pan & Wendy
In keeping with Vulture's coverage of Disney live-action remakes, I would prepare Tick-Tock the Crocodile in the traditional Cajun style: Bake at 350 degrees for 30 minutes or so — nothing fancy — with lots of seasoning, of course. —J.G.
➽ Peter Pan and Wendy? Tinker Bell continues to catch strays.
Make it a Double Feature
Mean Girls
In the nearly 20 years since Mean Girls premiered, Rachel McAdams has gone from having a "cool mom" to playing one in Are You There God? It's Me, Margaret. She seems like she's actually a much better parent than Amy Poehler's character was to Regina George. —J.G.
Want more? Read our recommendations from the weekend of April 21.