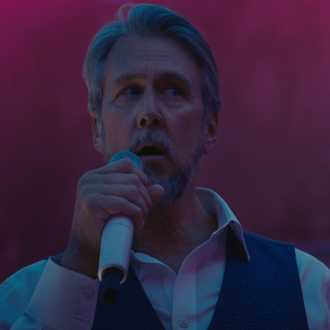 On this week's episode of Succession, Willa manages to leave Connor in such a state that even Kendall, Shiv, and Roman don't have the power to deny him his right to choose where they go. His choice? Karaoke, of course. He's seen it in the movies. But while Connor is the only one sad and drunk enough to actually perform (he goes with "Famous Blue Raincoat," by Leonard Cohen, which, oof), the situation forced us to consider what the karaoke songs of choice would be for the rest of the characters on this show, none of whom is particularly prone to public performance, "L to the OG" excepted.
The premise upon which we chose the following songs are: They're all drunk because they would literally never do karaoke otherwise.
Tom Wambsgans — "Mr. Brightside," the Killers
I mean, obviously.
Kendall Roy — "King Kunta," Kendrick Lamar
It's a no-brainer that Kendall would pick a hip-hop song. Even more of no-brainer is that it would be a relatively deep cut that only he, as the black sheep of the family and sole Pitchfork reader, would appreciate. Also he definitely is a Tidal subscriber.
Shiv Roy — "You Oughta Know," Alanis Morissette
Let Shiv angst in peace. And in public.
Kerry Castellabate — "I Will Always Love You," Dolly Parton
Staring at Logan the whole time.
Willa Ferreyra — "Candy," Mandy Moore
Willa may see herself as more of an artsy free-spirit type, but in a scenario in which the whole fucked up family is letting loose, she'd totally fall back on the '90s.
Greg Hirsch — "Hotline Bling," Drake
An aggressively mainstream and overly popular song that Greg would fumble the rap to.
Gerri Kellman — "The Chain," Fleetwood Mac
As a child of the '70s, Gerri would choose a classic.
Roman Roy — "Sister," Prince
If he wasn't drunk enough to choose a "Weird Al" Yankovic song, then he'd choose a song aimed at a sibling in a cruel way and make everyone deeply uncomfortable.
Karl Muller and Frank Vernon — "My Way," Frank Sinatra
Big Sinatraheads, these two.
Naomi Pierce — "Criminal," Fiona Apple
She'd scream the lyrics.
Caroline Collingwood — "Downtown," Petula Clark
With her accent, we'd get a stodgy take on an ode to New York.
Logan Roy — N/A
He'd unplug the mic. Just fuck off.