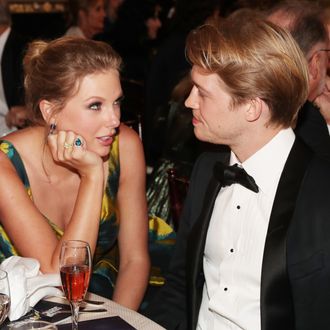 Photo: Christopher Polk/NBCU Photo Bank
It was the breakup news heard 'round the world: Entertainment Tonight reported last night that Taylor Swift and Joe Alwyn have split up after six years. The news follows multiple reports earlier this year that the pair are happy and "great together," with People revealing last month that Alwyn would be traveling with Swift during her Eras tour. "Joe will travel with her when he can," an insider told People at the time. "Joe is super supportive of her career." So what exactly do we know so far, and are the two ever getting back together? We can't answer that second question, but we can help with the first.
What exactly was reported about the break up?
Entertainment Tonight spoke with an insider who claimed that the pair broke up "a few weeks ago," according to a report that dropped on Saturday night. Per ET, the split was reportedly amicable and "it was not dramatic." The source went on to explain that "the relationship had just run its course. It's why [Alwyn] hasn't been spotted at any shows." People then independently confirmed the break up with "a source close to the pair." Page Six also confirmed the news on Saturday night, once again citing an anonymous source. CNN followed suit, with their source claiming, "Taylor and Joe broke up a few weeks ago. They simply grew apart and plan to remain friends."
On Monday, citing an unnamed source close to both Swift and Alwyn, People reported that the breakup was largely due to personality differences. "They had plenty in common and fell in love in a safe bubble while she was retreating from the world during Reputation," the source said. "Then the pandemic hit, and they were locked down together and able to continue growing their relationship in this insulated way. But he didn't really 'know' her yet outside of that bubble." According to the report, the pair bonded over a shared passion for art and creativity, and had even discussed marriage as recently as a few months ago. But Alwyn reportedly "has struggled with Taylor's level of fame and the attention from the public," and the pair ultimately did not see a long-term future together. "The differences in their personalities have also become harder to ignore after years together. They've grown apart," the source explained, adding that there is "a lot of respect still between" the two.
More details of the breakup emerged on Tuesday, when Entertainment Tonight published further comments from an anonymous source. "Taylor and Joe are in totally different places in their lives right now," the source told ET. "It was more of Taylor's decision to break up, but both of them realized that they weren't completely right for one another. They had been together for such a long time and were spending so much time together, but their personalities were just too different. Joe is more introverted, shy and quiet." The source went on to explain that Swift is "very focused on touring and her career right now," before adding, "Taylor has nothing but respect for Joe and really loved and enjoyed all the time and memories she shared with him. They had a deep connection and she really appreciated that. She hopes they can be friendly in the future."
Have Swift or Alwyn commented on the situation?
As of Monday afternoon, neither Swift nor Alwyn have released a statement or publicly commented on the news. Repeated requests for comment to their reps have gone unanswered, Page Six reports. It's important to note that Swift is currently touring and will play Tampa, Florida next week, so she's understandably busy.
Wait, they've been together for six years?
The pair have been extremely private about their relationship, but reports first emerged that they were dating back in 2017. Swifties have theorized that the two met earlier at the 2016 Met Gala, with lyrics from "Dress" off of Swift's 2017 album Reputation more or less confirming this: "Flashback to when you met me / Your buzzcut and my hair bleached" (Swift's hair was bleached and Alwyn's buzzed at the time). Several months later, Swift and Alwyn were spotted at a Kings of Leon concert, and by 2017, the cat was out of the backpack. They were spotted in Nashville and New York by the paparazzi, and Swift reportedly confirmed to Swifties that Reputation single "Gorgeous" was about Alwyn, her "angel boyfriend of one year," according to a fan.
Since then, they've been photographed out on multiple dates and vacations from 2018 onwards. Both have sneakily hinted at their relationship on social media (Swift promoted Alwyn's film The Favourite on Instagram in 2018, and Alwyn has posted photos of Swift's cats to his Instagram stories). They attended a 2019 BAFTAs afterparty together, as well as the 2020 Golden Globes. Swift's 2019 album Lover contained plenty of references to Alwyn, including on the record's lead single. Alwyn and Swift have also talked sparingly but glowingly about each other in interviews. "I felt alone, I felt really bitter," Swift said in her 2020 documentary Miss Americana about the time after the Kanye West fallout of 2016. "I also was falling in love with someone who had a wonderfully normal, balanced life."
Throughout the relationship, the pair have been plagued by engagement rumors, with unverified reports emerging that they even got secretly married in an Irish castle in 2018 (suffice to say that neither dignified that rumor with a response). Swift made reference to this intense scrutiny and her annoyance with it on her most recent album Midnights, with Swift singing on "Lavender Haze," "All they keep askin' me / Is if I'm gonna be your bride."
What's this about Swift's setlist?
After news broke of Swift and Alwyn's split, Swifties began to theorize that the Queen of Easter Eggs may have hinted at the break up during her Eras tour. Swift recently switched out "Invisible String," a song about her connection with Alwyn, for the more ambivalent breakup song "The 1" during her show in Arlington, Texas on March 31. Of course, it's not clear if the breakup is truly behind the switch, but if there's one thing Swifties are going to do, it's look for evidence in Swift's music. "You think you can just scroll the setlist? You think you can just come prepared?" Swift said after her first performance of the song in Texas. "Let it be said about the Eras Tour … there's high jinks."