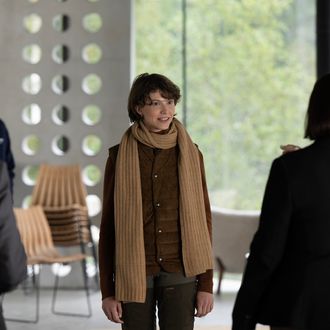 Photo: Graeme Hunter/Graeme Hunter
Location, location, location! Even before touching down in Scandinavia, the Waystar team is anticipating all the threats their mysterious Nordic counterparts and an unfamiliar landscape might pose. Enter Gerri, who pumps everyone up with a speech dragging the welfare state: "Sure, they're young and they're fit," she says on the plane ride, "but they're European. They're soft. Hammocked in their Social Security safety nets, sick on vacation mania and free health care. They may think they're Vikings, but we've been raised by wolves."
A few episodes ago, Logan was flying to Sweden to finalize the deal. This time around, the Roys are jetting from New York to meet Matsson in Norway for GoJo's "company retreat." In picturesque Valldal — most notably, the Juvet Landscape Hotel makes an appearance (also of Alex Garland's Ex Machina fame) — they eat at a nice breakfast spread, drink their PBR-ass beer, throw axes, do archery, strategize against a backdrop of midday mammal roasts, and roll on molly in their sullen sweat-pickled cashmere.
Why, after hearing about a massive deal in one Scandinavian country all season, did we spend this episode in an entirely different Scandinavian country? It sure could be the production incentives. Norway offers a 25 percent cash rebate to TV and film productions. According to the Norwegian Film Commission, the benefit is reserved for projects for international distribution. It's not uncommon for productions to get the most bang for their buck on location. Closer to Waystar HQ, there's Atlanta, Toronto, and Vancouver.
But that 25 percent is nothing compared to Italy — you'll remember Lady Caroline's wedding in "Chiantishire"; also The White Lotus season two, for that matter — which offers a 40 percent rebate. Meanwhile, Thailand just approved a 30 percent production incentive (see: The White Lotus season three).
This article originally appeared in Succession Club, our subscriber-exclusive newsletter obsessing over all the minutaie of the final season. Existing subscribers can visit this page to sign up. If you're not a subscriber yet, get started here.