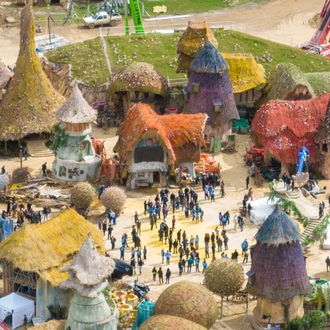 We're off!
Photo: Bav Media/SplashNews.com
If there's one thing that is mandated for a movie based in Oz, it's that you've go big on the color story. The Wizard of Oz kinda laid that gauntlet down with the shot of Dorothy entering Oz and thus rediscovering what life meant through color — you know, perhaps the most iconic film shot of all time. (Down to argue!) So yeah, the stakes are flying higher than Elphaba on her broom. But it looks like the upcoming Wicked movie won't have any trouble living up to its gloriously Technicolor predecessor. Recently released shots of the Wicked set, taken by bubble (and by that we mean drone), show a rainbow fantasy land filled with gay thatched roofs and even gayer trees. It's like the hobbits during Pride Month. We longingly await the resplendent green that the Emerald City has in store for us when the first of the two movies comes out on November 27, 2024.
Anticipation for the upcoming movie is ramping up; our angel-voiced Galinda, Ariana Grande, revealed on April 3 that filming halfway done. "i am so grateful, i don't know what to do or say," the pop star turned "Popular" star said on Instagram. "to be here in Oz where everyday is a life changing one… to be feeling, learning and growing so much at such a disarming speed… to feel so much love around me, to begin each day before the sun is up and to end after it sets… to hold my brilliant twin flame / sister Cynthia's beautiful, green hands every day…" If you were wondering where you've seen posts like this before, the answer is that it reads like the FaceBook posts of every theater kid you knew in high school after their production of Guys and Dolls finished. Ms. Grande has gone full theater kid. We are anticipating her Sondheim era with Glee.