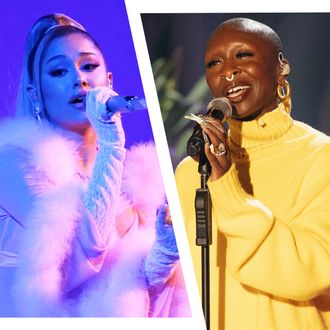 Glinda and Elphaba, respectively.
Photo: Getty Images/Shutterstock
Good news! She's deaaaaaaaad actually alive. Over a decade after the production team on the freakishly successful Broadway musical began meeting with filmmakers back in 2010, a Wicked movie adaptation is finally in production. While those early meetings reportedly included potential directors like Rob Marshall (boring!), Ryan Murphy (but he would want Lea Michele), and J.J. Abrams (the sci-fi boy?), Stephen Daldry was officially hired, with a December 2019 release date set back in 2016. Obviously, this did not occur. Cats got that release date instead, and that went great. Then, Jon M. Chu of Crazy Rich Asians, Step Up 2: The Streets, and In the Heights fame took over as director in 2021. Since then, the film has been positively dancing through life, releasing new cast updates regularly and starting production to be not just one but two films that actually exist, against all odds. Below, everything you need to know about these soon-to-be popular movies, coming out in 2024 and 2025.
Wait, films, as in plural?
Yeah, films. After years of no Wicked movie, we're getting two Wicked movies. Wickeds? Wicki? Wickeople? "As we prepared this production over the last year, it became increasingly clear that it would be impossible to wrestle the story of WICKED into a single film without doing some real damage to it," Chu said in a statement posted to social media on April 26, 2022. "So we decided to give ourselves a bigger canvas and make not just one WICKED movie but TWO!!!!" Okay, so … why? "We found it very difficult to get past 'Defying Gravity' without a break," Wicked composer Stephen Schwartz said in an email newsletter in June of 2022. "That song is written specifically to bring a curtain down, and whatever scene to follow it without a break just seemed hugely anti-climactic." Plus, it was going to be very long, and "it required us cutting or omitting things that we wanted to include and that we think fans of the show and the story will appreciate." Look, if it means that the Act Two opener "No One Mourns the Wicked (Reprise)" will actually get a track after it was tacked onto "Thank Goodness" in the original cast recording, then we will take it! Or, as Ben Affleck, king of Boston, would say: That would be wicked.
Who's in the cast?
Well, here's the goooood newwwwwsss. Casting so far? Chef's kiss! Our "Dear Old Shiz" alumni will be played by Tony winner Cynthia Erivo and Grammy winner and theater-geek-at-large Ariana Grande, playing Elphaba and Glinda (formerly Galinda), respectively. Also in the cast are Bridgerton star and Olivier Award winner Jonathan Bailey as Fiyero and Tony nominee Ethan Slater as Boq. Michelle Yeoh will be the film's Madame Morrible, capping off a banner year for the Everything Everywhere All at Once star, Variety reported on December 8. Marissa Bode will be playing Elphaba's sister Nessarose, a notable departure from the stage version, as Bode is a person with a disability. The Broadway version of the show has solely cast non-disabled actors for the wheelchair-bound role. SNL star and Emmy nominee Bowen Yang will play Pfannee, one of Galinda's friends, alongside Bronwyn James as ShenShen. Tony nominee Keala Settle, Aaron Teoh, and Colin Michael Carmichael are playing Miss Coddle, Avaric, and Nikidik, respectively. Jeff Goldblum was reported to be in "final talks" to play the Wizard in October 2022 by Variety, but that casting has not officially been announced. Notably, this leaves Dr. Dillamond, adult goat and singer of "Something Bad," without an actor. And look, Jon M. Chu, as long as you stay away from the enemy of restaurateurs, we're happy.
What does it look like?
You don't need to have a vision almost like a prophecy to see what the Wicked movie is going to look like. Instead, we have a few first looks to choose from that can foretell all kinds of different looks for the film, depending on what you want to see. The most official of the group were a set of character pics tweeted out by Chu, showing Elphaba and Galinda with shrouded backdrops. Some people on Twitter made fun of these pics for the cinematography being too dark, but Chu himself responded, saying, "Don't worry, color is in my DNA… this is just the first tease. Plenty of time to show more… stay tuned."
Other on-set shots already look, to quote a different former Chenoweth vehicle, a whole lot brighter. Shots from the set that weren't technically released through official sources show brightly colored sets and a pretty-in-pink Ari walking through Munchkinland. This even included a video shared by Entertainment Tonight, in which you can see and hear a ponytail-less Grande in full pink getup singing her high notes from the opening song. What the cinematography will look like, no one can say. But it would be a shame not to show off the vibrant colors they've got going on.
When's the release date?
Originally, both films were going to be released on Christmas Days. However, Chu tweeted out on March 14 that the first film is defying gravity, because the release date was actually moved up. "We are deep into production on WICKED and everyday we get more and more excited to share with u the mischief we've been up to," the director said. "So … We've decided to get it to you all a little earlier than planned. OUR NEW RELEASE Date is NOV 27th 2024! A little Thanksgiving treat!" As far as we know, the second will still be a good deed for Christmas 2025. It's just less than two short years before we get a Wicked film, and we might as well start yelling about it now. AAAAAAAAH!
This is a developing story.