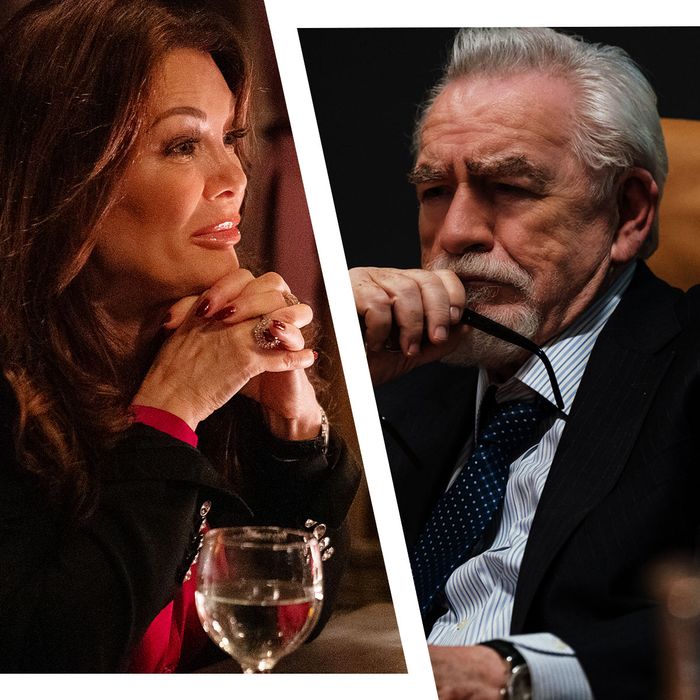 It's like looking in the mirror.
Photo-Illustration: Vulture. Photo: NBC; HBO
Bravo's Vanderpump Rules became national news just in time for the premiere of Succession's fourth and final season on HBO. At first glance, Vanderpump Rules and Succession have nothing to do with one another. The reality series, which premiered in 2013 and follows the real, former, and fake employees at Lisa Vanderpump's West Hollywood restaurant SUR, suddenly became Succession-level prestige television in March following a cheating scandal: Longtime cast member Tom Sandoval cheated on longtime girlfriend Ariana Madix with shorter-time cast member Raquel (real name Rachel) Leviss, who was previously engaged to other longtime cast member James Kennedy. Succession, meanwhile, follows the dysfunctional and disgustingly rich Roy dynasty, led by Logan Roy. But the shows are, if you look deeper, intrinsically connected. Both are centered around a leader whose name begins with the letter L. Both leaders have accents and are impossibly rich (for every swan Lisa Vanderpump owns, Logan Roy has a private plane). While Lisa and Logan are competent in their chosen businesses, their empires are filled with a bunch of not-serious people. Lisa has the Toms and 30-somethings who act 19; Logan has his moron children as well as a bunch of ass-kissers who follow him everywhere he goes (including his untimely death). They are both fan-favorite shows about narcissists doing their worst, with theme songs that slap.
Despite the fact that literally no one asked for it, here's a detailed breakdown on select Succession characters' odds of SURvival on Vanderpump Rules, ranked from least likely to most likely.
15.

Kendall Roy
Chance of SURvival: One screen test
Sensitive boy Kendall Roy may be able to fire off a quippy "fuck off" and is, generally, more informed on how businesses work than his siblings. But as much as Kendall would like to think he's cool enough for this, he's a bit too delicate: He'd take insults too personally and as a result hold grudges for too long. Kendall Roy would also cry more than Lala Kent, making the program impossible to watch (imagine something even more pathetic than seasons eight and nine of Vanderpump Rules).
14.

Frank Vernon
Chance of SURvival: Lower than Tom Sandoval's ability to be faithful to romantic partners
Frank, bless him, is too busy trying to be Kendall Roy's stand-in father to do anything else with his life. He also doesn't know how to make a cocktail (although that didn't stop Jax Taylor from working as a bartender at SUR for many years).
13.

Shiv Roy
Chance of SURvival: One season and done
Shiv Roy crumbles when she's not in power both professionally and personally, and like any cast member on Vanderpump Rules, her personal life is her professional one. She has the drive and the wardrobe, and she is a deplorable person, but she is absolutely terrible at having power. Her questionable life decisions, including but certainly not limited to pitching an open marriage on her wedding night (after tying the knot) and fucking a guy named Nate, make her the perfect candidate for a reality television show such as Vanderpump Rules. But she, like her brother, is sensitive — way more so than she lets on. One minute alone with the Logan Roy of West Hollywood would turn her to pink glitter, considering Shiv can't even have a conversation with Tom about their divorce, which she nearly single-handedly ruined.
12.

Stewy Hosseini
Chance of SURvival: One season and done, by choice
Stewy might join the show for a season as a favor for his old Harvard/cocaine buddy but would make a quiet exit in order to prioritize his real job, which is … having secret meetings about board meetings and going to board meetings.
11.

Willa Ferreyra
Chance of SURvival: She'd pop in
Higher than you'd think, huh? Just when you forgot about her, there she is in an episode. Willa is the Kristina Kelly of Succession.
10.

Kerry Castellabate
Chance of SURvival: Good, as long as she has her signature bangs
Kerry's thick, blunt bangs just got heavier following the death of Logan Roy. Kerry fulfills the Raquel role, because she, too, is an enigma with a tendency to enter relationships with other people's spouses. There's not much personality, but sometimes — like in her reaction to Logan's death — there's an overwhelming amount of it. Like Raquel, it sometimes feels like she doesn't quite understand what she's a part of, but then, other times, she's more aware than anyone else. Kerry and Logan would have lightning-bolt necklaces.
9.

Karolina Novotney
Chance of SURvival: Until it becomes too obvious that she's self-producing; then she'll just become a Real Housewife
Karolina has the most important quality for a Vanderpump Rules cast member: no moral compass. Most people on Succession have questionable morals, but Karolina, unlike the Roy sibs, Tom Wambsgans, or Karl, can put her feelings aside and get the job done, because she doesn't have any feelings. A primary example of her Scheana Shay–level girlbossing is when she started drafting a Logan Roy death agenda while his body was still warm and on the same airplane.
8.

Greg Hirsch
Chance of SURvival: Always there, but invisible
Cousin Greg the Egg gets flustered easily, so the addition of cameras in his daily life would make him sweat so much that his tailored suits would cling to his body like wet toilet paper. This makes him the Peter Madrigal of Waystar Royco, a well-meaning oaf who pops in from time to time to insert himself into the narrative. But no matter how hard he tries, he'll never really be WeHo royalty. His most important role will be providing shots to his peers at the end of the reunion.
7.

Connor Roy
Chance of SURvival: From friend-of to full-time
With Connor Roy in any position (real or fake) at Sexy Unique Restaurant, the goat-cheese balls will never be cold. Having lived his entire life in chaos and neglect, Connor would finally get the chance to be the star he was born to be. It's his time. These would be the best days of his life.
6.

Roman Roy
Chance of SURvival: Join a few seasons in, but it would feel like he's been there since season one
Roman Roy is the Succession equivalent of DJ James Kennedy: messy with a nasty mouth and a weirdly big heart considering how he presents himself to the world, with a tendency to send inappropriate text messages. Like James Kennedy, Roman would constantly get fired from working at SUR or Pump not because of his drunkenness, but because he'd insult customers to their faces. He also probably wouldn't understand what anything on the menu costs. Roman is completely unfiltered, and instead of letting his emotions get to him like his siblings Kendall and Shiv, he retaliates, making him an excellent fit for this environment. Roman would dominate reunions and stir the pot with Instagram comments.
5.

Tom Wambsgans
Chance of SURvival: Isn't it obvious? His name is Tom.
Tom Wambsgans is a reality television producer's dream. His majesty the uncrowned prince of the Midwest is a cutthroat clown: competent sometimes and a typical Tom the rest. Wambsgans, a walking sound bite, has a word-vomit problem, but his colorful version of the English language is as creative as the Vanderpump Empire décor. "A ludicrously capacious bag" is the verbal equivalent of the Tom Tom clock.
4.

Karl Muller
Chance of SURvival: The king of Mid–West Hollywood Dining
Just give him a small fossil of a dog with alopecia and let him do his thing.
3.

Hugo Baker
Chance of SURvival: Every season and a spinoff
Like Jax Taylor, Hugo will betray anyone without batting an eye. Like Stassi Schroeder, he's always around to fire off creative insults even though no one really knows why he's there or what his job is.
2.

Logan Roy
Chance of SURvival: From pilot until death
Given the business titan's position as CEO of Waystar Royco, it would be easy to assume that, if thrown into the mediocre, extremely decorated restaurants of West Hollywood, Logan Roy would assume the Lisa Vanderpump role. But deep down, he has all of the qualities that would allow him to thrive as a cast member who, say, pretends to bartend for a couple seasons and then is just kind of around. With the sociopathy of Jax Taylor and the work ethic of Scheana Shay, Logan Roy is just monstrous enough for Vanderpump Rules. He also understands how much beverages such as milk cost, which is helpful in the environment.
1.

Gerri Kellman
Chance of SURvival: She is the show
While Logan is, in theory, the best substitute for Lisa Vanderpump, it's actually Gerri who is best suited for the role as chaos matriarch. Gerri is knowledgeable, cool under pressure, and sassy; she looks out for her own interests and, most vitally, can serve a glamorous look for fabulous occasions, such as her fascinator for Connor's wedding. She's also one of the few Succession characters one can imagine owning swans of all colors.