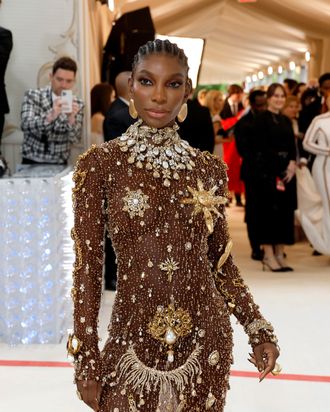 Photo: Mike Coppola/Getty Images
Anna Wintour and the fashion girlies celebrated International Workers' Day with a star-studded gala. The theme of this year's Metropolitan Museum Costume Institute exhibition was "Karl Lagerfeld: A Line of Beauty." This translated on the red carpet to a lot of Chanel, many homages to Lagerfeld's cat Choupette, and Lagerfeld muses attending. Yes, including Choupette. It was also the Met Gala debut of such figures as Paris Hilton, Ice Spice, Yung Miami, and Pedro Pascal's knees.
Last year's theme, the Gilded Age, was mostly considered a flop. Too many attendees confused the Gilded Age (Titanic times) with rococo or baroque (Marie Antoinette times). Luckily, Lagerfeld's era is much easier to understand, if only because it's so recent. Pastels, lace, Chanel suits, pearls, sunglasses, fans: all on theme. And bridal looks. A lot of bridal looks. Being a Chanel bride in the 2000s was one of the highest honors a model could achieve. As a result, the 2023 Met Gala red carpet sometimes looked like a mass wedding, as scores of celebs appeared wearing white. Here are the best (and most … interesting) looks of the night.
Laura Palmer, Guest of Honor?
She's at the Carlyle. Wrapped in plastic.
A Salmon Nepo Baby?
Sorry to bring up nepo babies again, but one of the great pleasures of the Met Gala is being introduced to a random new plutocrat. This is Scandinavian business weirdo Gustav Magnar Witzøe, who became a billionaire when his father gifted him half of a salmon company. He's the baby that GoJo and Waystar Royco never had!
Karl Klout Chasers
Because Lagerfeld's death is so recent, many of the people attending this year's gala were friends, enemies, or frenemies with the designer. And many stars used their fits to communicate just how close they were to him. For example, Nicole Kidman wore her Chanel No. 5 ad-campaign dress. "I have the sketches when he was drawing it," she told La La Anthony on the Vogue livestream. "I knew him very, very well." Many of Lagerfeld's old muses — Devon Aoki, Naomi Campbell, and, of course, Choupette — walked the Met stairs. Gisele Bündchen said that Lagerfeld was "a gentleman and a wonderful man," but also remembered being forced to walk the streets of Paris barefoot for a Chanel No. 5 campaign.
From the Archives
Kidman brought up how durable a couture gown can be, exclaiming how happy she was that her campaign dress was the same 20 years later. Before the Gala, style TikTokers conjectured that this would be one of the more sustainable galas, with stars pulling from archives for Lagerfeld lewks.
Co-chair Dua Lipa wore a bridal look originally worn by Claudia Schiffer in 1992. Speaking of …
It's Giving Marriage, Very Much Married
Lagerfeld closed his shows, like many couturiers do, with a bridal look. Being a Chanel bride was quite the honor back in the day, so it's no surprise we saw so many white dresses on the (also white, WTF is wrong with you, Vogue?) carpet. Lea Michele described the whole event as a wedding between "my friends Anna and Karl." Even David Byrne wore white, though it sort of looked like he was marrying his bicycle. And why shouldn't he?
Baby's First Met Gala
Ice Spice, Doja Cat, and others attended their first Met Gala this year. Both Devon Aoki and Paris Hilton made their long-awaited Met Gala debuts, just in time for the indie-sleaze revival. Ice Spice told La La Anthony that she had been nervous until she heard the fans screaming. Doja really went with the "Cat" in her stage name, donning prosthetics to look like Choupette. And it was literally baby's first carpet for both Serena Williams's and Karlie Kloss's unborn children. Both ladies made their pregnancy announcements on the red carpet. Kim Kardashian couldn't get North West in, but Northie did get to do the Carlyle-to-car pap walk.
A Twilight Reunion?
Listen. Chanel ambassador and former Lagerfeld muse K-Stew was always going to attend this gala. But R-Pattz is there too? Is anyone else from the Twilight saga there? I need eyes on Bryce Dallas Howard, stat.
Jessica Chastain was serving Rosalie Hale, so at least there's that.
Catboys on the Carpet
Jared Leto giving Cousin Greg in his mascot era. Lizzo was all of us. And Lil Nas X had only one comment to Variety on his bejeweled Choupette: "Meow."
Boygenius Fans Will Look at a Picture of Literally Any Three Things and Go, "That's Boygenius."
Okay, but that is Boygenius.