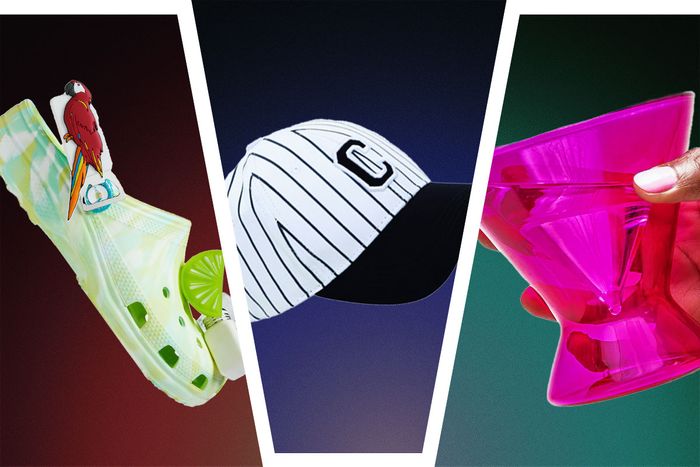 Photo-Illustration: Vulture; Photos: Retailers
We live in a capitalist society, so there's no reason that the winter-holiday season should have a monopoly on gift guides. Santa Claus is hitting the beach, leaving you on the hook to buy gifts for any friends who have summertime birthdays. Or maybe you just want a little warm-weather treat for yourself. It's okay! You deserve it. Whatever your gift-giving needs might be, the Vulture staff has you covered, as we have rounded up the best summertime pop-culture gifts. 
If you, like me, desperately need something to cover your head this summer and happen to be a nerd for giant robot anime, look no further than this excellent cap with the classic Mobile Suit Gundam logo. It fits great, makes a firm statement that your soul will not be weighed down by gravity, and happens to be the perfect item to wear during "Suletta Sundays" — the weekly episode drops of the latest, excellent franchise installment, Mobile Suit Gundam: The Witch From Mercury. —Eric Vilas-Boas
These Margaritaville Crocs come with Margaritaville jibbitz, which include a real bottle opener and a shot glass. This gift is for two distinct groups of people: Parrotheads and people so irony-pilled it's impossible to tell whether they genuinely like something or if it's a bit. Either way, make sure they don't use the shot glass jibbitz unless they've washed it. —Bethy Squires
Sure, Pikachu is cute. But, as a weird little mini-game in Pokémon Yellow proved, he's also rad and gnarly. This towel, featuring Surfing Pikachu in all majesty, is the perfect gift for anybody whose inner Water type has them hitting the beach. —James Grebey
Is it a cooler that plays music? Or a speaker that keeps your drinks cold? In truth, it's more the former: The pair of Bluetooth-connected speakers on the front of this classic 14-quart Igloo cooler won't impress any audiophiles at your bonfire. But being able to reach into the stereo to get a refreshing beverage has a way of making concerns over meager bass response disappear — and carrying one less thing to the beach sounds good to me any day. —Neil Janowitz
Lifeguards, if you want to step up your whistle game this summer, Lana Del Rey has something for you. She has released a whistle with her initials engraved on the side. But honestly, even if you can't swim, you can just blow the whistle on land. Lana would want it that way. —Alejandra Gularte
The summer's biggest movie is undoubtedly Meg 2: The Trench (well, in terms of shark size), but the book the first one's based on is an incredible beach read for any genre fan to sink their jaws into. If anything, the books are even more insane than the movies, which might sound impossible, given that the movies are about Jason Statham fighting a giant shark, but the book is wonderfully gore-filled pulp trash. —J.G.
As a recent Summer House convert, I've been curious to try Kyle Cooke and Amanda Batula's canned cocktails, which they're constantly promoting on the Bravo show, especially the espresso martini. Everyone's got an alcohol brand these days, but reality-TV lovers will appreciate you showing up with the very drinks that contributed to numerous friendship-altering arguments. —Zoë Haylock
Nothing's made me feel more like a Barbie girl than this martini set. They're straight from Barbie's Dreamhouse — what more do you want? You can sip alcohol, you can eat an aesthetic scoop of ice cream from them, or you can toast to your girlfriend or boyfriend. I was highly influenced by Barbie-doll guru Miss Trixie Mattel herself, and I'm glad I was, because they'll be the perfect accessory for the summer. You can, and I will, drink a martini in these glasses before going to see Greta Gerwig's Barbie for a full Barbie-world experience. It's fantastic! (though not made of plastic). —Savannah Salazar
What's hotter than working in a small restaurant kitchen with all the burners turned up high on a sweltering summer day? Jeremy Allen White as The Bear's executive chef, wearing a white T-shirt, blue apron, and respect for his staff regardless of their difficult personalities and major quirks. Give this mug to a fellow fan and toast the show's return this June by drinking whatever goes best with Chicago Beef sandwiches. —Tolly Wright
A classic from our childhoods, with renewed relevance thanks to snoopysister on TikTok. From a design standpoint, Snoopy has all the black-and-white, abstract iconic energy of Mickey Mouse. But Snoop doesn't have the Disney adult baggage. He's the lil' cartoon guy of the summer. —B.S.
If you know someone who's hosting an outdoor screening in their backyard or on a roof, or they're just inviting you to one in the park, bring AMC's latest innovation in moviegoing: the AMC Theatres MegaBag. It is a giant sealed bag of movie-theater popcorn designed to be brought home. It's $14.99, three times the size of a large, and comes with a squeezy bottle of "buttery flavored topping" to apply at your leisure. —Rebecca Alter
This is a great shirt to gift yourself and wear to all your family gatherings this summer, included but not limited to: Memorial Day and Labor Day celebrations, Father's Day barbecues, Independence Day cookouts, and generally any sort of social settings that require conversing with acquaintances and associates. (H/T to my colleague Danya Issawi, who flagged this in our New York–wide Succession Slack.) —Julie Kosin
Baseball is the American pastime, a summer tradition. But there's someone in your life whose only team allegiance is to Team Edward. This is the hat for them. Keep their sparkly skin safe from the summer sun while also paying homage to the greatest scene in film history. —B.S.
It's the hottest day of the summer. You can do nothing, you can do something, or you can buy this Do the Right Thing tote from the Academy Museum's online store. —J.G.
Festivalwear has gotten so buck wild, it might as well be cosplay at this point, right? Serve the rebellion, but more important, serve cunt. —B.S.