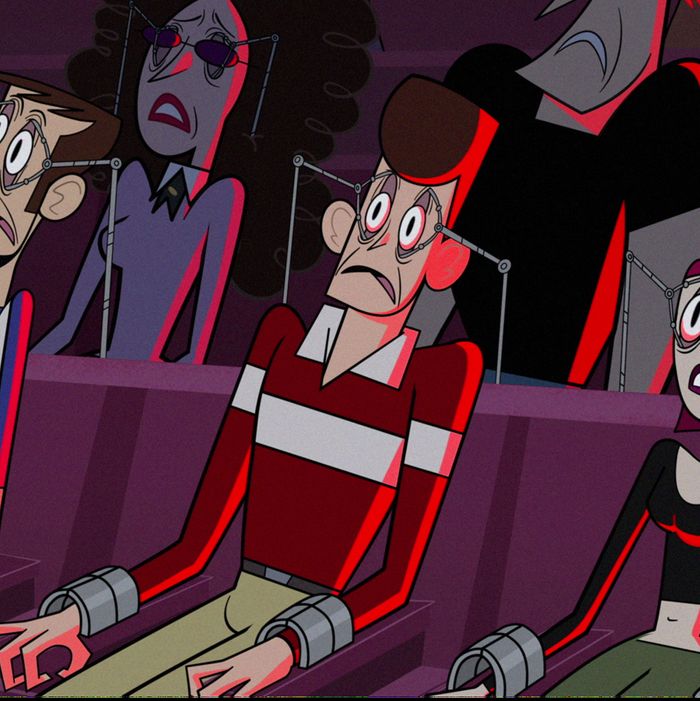 At first glance, it's hard to believe Clone High exists at all. The premise is what we referred to in the early 2000s as "high concept," except it's somehow… higher. The setting? High school. The drama? Pure, petty teenage squabbling. But then come the unusual subjects: a collection of adolescent clones of historical figures, including Abe Lincoln, Joan of Arc, Cleopatra, Gandhi, and an extremely smarmy JFK, brought to life as part of a nefarious government experiment.
That the adult animated series not only made it to cable airwaves for a lone season, but also found a passionate cult audience, is a testament to the genius of creators Phil Lord and Christopher Miller. (And yes, the scrappy, punk spirit of MTV's early scripted programming.) Lord and Miller would go on to make delightfully odd, acclaimed movies in 21 Jump Street, The Lego Movie, and (as producers) the Oscar-winning Spider-Man: Into the Spider-Verse. But they haven't forgotten their Y2K TV baby. Lord and Miller refresh Clone High for a new series debuting May 23 on the rebranded Max. The clones wake up after being frozen since their last run, only to discover that it's not 2003, and they're uniquely ill-equipped to face the challenges of 2023.
Clone High tapped into anarchic, meta humor that would come to define millennial tastes, along with Lord and Miller's work. But where to start watching? Here are the essential episodes to grasp the left-of-center charm of the original show (available to stream on Max) — and prepare for the revival.
Episode 3: "A.D.D.: The Last 'D' is for Disorder"
The best Clone High episodes tend to give perpetual sidekick Gandhi his richest subplots. That's the case in the dizzying (in a great way) "A.D.D.," which roves from Cleo's open-mouth kissing booth (raising awareness for… awareness) to the Indian leader's attention deficit disorder diagnosis, making him the target of a fear-mongering mob — because, well, it's 2002. Lest this become an issue episode, though, Tom Green guests with surreal comic relief, and Joan's mouth retainer tunes her into an evangelical wavelength. The script's attention may waver, but its punchline hit rate is far from deficient.
Episode 4: "Film Fest: Tears of a Clone"
What self-respecting millennial hasn't dreamed of expressing themselves via video art presented at a film festival? Lord and Miller use this episode's films-within-a-show to prod at the neuroses of their characters, along with their own cinematic obsessions. Joan's experimental reel encoding her love for Abe cleverly sends up David Lynch, but stay for the strangely compelling buddy cop team-up of Gandhi and George Washington Carver: Black and Tan (in a cameo, Carver's peanut steals the show).
Episode 6: "Homecoming: A Shot in D'Arc"
Joan of Arc and the 16th U.S. president may be the would-be perfect match, but Joan deserves this showcase of her independent streak. Within the world of Clone High, that means she gender-swaps as the school's hottest, most talented basketball player, and even attracts the attention of sex goddess Cleo. No wonder a badly disguised Joan tells Abe that he should "date the crap out of her."
Episode 8: "Raisin the Stakes: A Rock Opera in Three Acts"
This is Clone High's very cool musical episode, before sitcom musical episodes were cool and then very played out. The parody's answer to Saved by the Bell's absurd caffeine addiction narrative is… the psychedelic power of smoking raisins. It's an excuse for Lord and Miller to indulge their silliest (read: funniest) impulses, whether it's Gandhi's magical journey into the subconscious, a Doors-like interlude, or Cleo seductively peer-pressuring Abe to "inhale some dried fruit." Just say no, Abe!
Episode 12: "Makeover, Makeover, Makeover: The Makeover Episode"
It all, naturally, comes down to prom. While Clone High's season-one premiere and finale establish the show's eccentric rhythm, it's the penultimate episode that lets its satirical freak flag fly. In this historical remix, Joan of Arc is a "poor spinster" who must be made over so that her inner and outer beauty can shine (call it Joan's All That), while JFK sexes up Gandhi. Twenty years ago, all any of us — even the world's most important figures — could think about was how to land a date. Bless Clone High for seeing right through us.
Watch the new season trailer below, and subscribe to Max for access to Clone High.
This advertising content was produced in collaboration between Vox Creative and our sponsor, without involvement from Vox Media editorial staff.