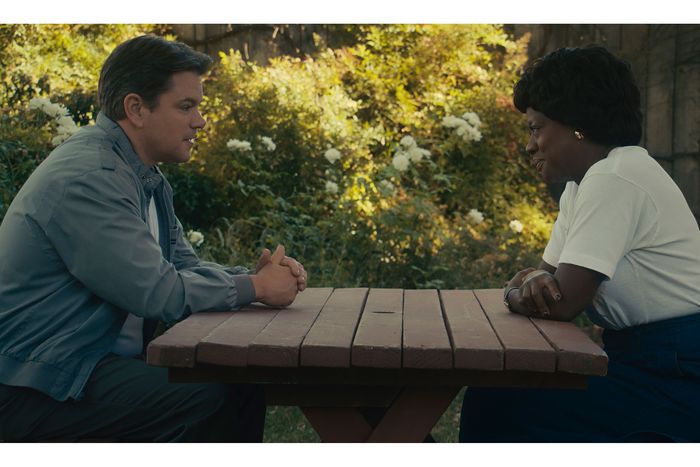 Matt Damon and Viola Davis in
Air
.
Photo: Courtesy of Amazon Studios
This story was originally published in April. We are recirculating it now that Air is available to stream on Prime Video.
As the Air Jordan creation-myth biopic Air makes its way to the multiplex Wednesday, the movie's screenwriter, Alex Convery, can't avoid observing certain ironies. Although Air is nominally a sports movie plotted around Nike's least-likely-to-succeed 1984 endorsement-deal signing of Michael Jordan, its watchability is predicated on "people in rooms talking"; there is but one scene of actual basketball in the whole thing. Convery wrote the script "out of desperation" without really expecting to ever see it translated to the big screen — he attributes its adaptation by director and co-star Ben Affleck (with lead actor Matt Damon also producing) to luck more than his own writing excellence. And though Convery, now 30, conceived Air while a less-than-gainfully-employed 20-something with zero movie or TV credits during the dull days of pandemic lockdown, he shrugs at the Hollywood narrative around his "written by" allocation on the film: after years of false starts, a drawerful of unmade scripts, and years of low-level showbiz drudge work, that he could somehow be viewed as an "overnight" success. "It's been funny to hear, 'Oh, my gosh, this is your first screenplay. Congratulations!'" he tells Vulture via video link. "I have a graveyard of unproduced screenplays too. Since graduating film school, it's been nine years of grinding away, chipping away, trying to write The One. And why this one instead of the other ones? I don't know. Most of it is just the right people reading the right script at the right time."
Before the Jordan brand became a multibillion-dollar cash cow for Nike, before Jordan exploded the business model for pro-model profit participation by becoming the first athlete to earn a cut on the sale of every shoe bearing his name and Jumpman likeness, it's easy to forget that his signing with the granola-crunchy, Oregon-based shoe manufacturer was hardly a no-brainer. Heading into his rookie year with the Chicago Bulls, the NCAA All-American First Team recruit and National Player of the Year was intent on endorsing Adidas, then the 800-pound gorilla and all-around coolest company in the sports-shoe world. Nike, for its part, was a running-shoe powerhouse but basketball also-ran, ranking third in market share behind Converse and arguably dead last in terms of street cred. As is detailed in broad strokes in Air, Nike marketing exec Sonny Vaccaro (played by Damon) spotted Jordan's GOAT potential and reluctantly persuaded company co-founder Phil Knight (Affleck) to divert Nike's entire basketball budget toward signing the player. From there, Vaccaro reverse-engineered the brand as an extension of the athlete — instead of the other way around, an industry first — and performed an end run around Jordan's hard-charging agent, David Falk (Chris Messina), by personally cajoling Jordan's shrewd and influential mother, Deloris (Viola Davis), to bet on Nike, ultimately sealing the deal.
Moreover, before there existed even the kernel of an idea for an Air screenplay, there was The Last Dance: the culture-saturating 2020 ESPN-Netflix docuseries that charts Jordan's rise as basketball's preeminent superstar and embattled leader of the Bulls over the team's 1990s multi-championship run. "I was locked up in those early months of quarantine, like everyone, watching The Last Dance," Convery says. "And there's that three-minute clip in episode 5 about the Nike story. It's very macro. It kind of breezes through it quickly. But for whatever reason, the machinations of that clicked. I thought, Man, this is a movie."
It didn't hurt that Convery, a lifelong basketball fan and native of the Chicago suburbs who moved to L.A. for USC film school in 2010, had played a tangential role in the production of a 2015 episode of ESPN's Emmy-winning documentary series 30 for 30 titled "Sole Man." That episode also follows Vaccaro's career arc as the executive who revolutionized new revenue streams around student athletics; he basically rewrote the rules of sports-apparel pitchmen, vaulting Nike to the top of the business heap with his relentless pursuit of Jordan. Although Convery was only a low-level assistant to one of the show's producers at the time, he had up-close access to its source material and oversight of its editorial process. "I was tapped in on all the phone calls and saw lots of cuts of the episode with raw footage. Sonny is truly a one-of-a-kind character. But I wasn't sitting there in 2015 thinking, Maybe there's a story here to tell one day," he recalls.
Over the intervening years while working a series of dues-paying jobs including Hollywood management-firm assistant and sales rep for a tutoring company, Convery kept churning out spec scripts to modest acclaim. (Spec scripts are screenplays written "on speculation" with no contractual agreement by a studio or financier to ever be put into production.) Several of them landed on the Black List, the ballyhooed annual survey of studio and production company executives ranking their favorite unproduced movie scripts. There was Bag Man (2018), which Convery describes as "Heat but set in the world of college football," and Excelsior! (2020), a biographical drama plotted around "the meteoric rise (and subsequent fall)" of Marvel Comics's creative titans Stan Lee and Jack Kirby. For a period of 48 hours, Sony considered developing Excelsior! into a motion picture before dropping the project, leaving Convery demoralized. "Heartbreaking," he says. "I vowed never to write a spec again."
That all changed in 2020 with an epiphany born of Last Dance binge-watching and pandemic sheltering in place. "I just thought, Someone must have tried this as a movie already. And I started poking around and no one had," Convery says. He specced out a boardroom procedural originally titled Air Jordan based on his extensive Googling of Vaccaro and the background materials he'd reviewed during the "Sole Man" production. His goal: "At best, a strong sample that would get my work and my name back out there, maybe make the Black List again." He figured, "Maybe it can get me a different job. But my reps believed in it and sent it around. And for whatever reason, there was a lot of interest. It was kind of competitive, and I was trying to decide between a couple of different production companies."
Convery signed a deal with Mandalay Entertainment, the production company behind The Last Dance. Mandalay in turn entered into partnership with Skydance Sports — a company headed by none other than Jon Weinbach, one of the co-directors of 30 for 30's "Sole Man," who helped secure Vaccaro's life rights for the project. Convery regained access to hours of archival footage and reams of interview transcripts and met with Vaccaro in Palm Springs to pore over the script, mapping out "what we got right, what we got wrong."
Affleck and Damon announced their attachment to the then-untitled "sports marketing drama" last April, which became its own blessing and potential curse. Affleck met with Jordan, seeking further screenplay verisimilitude, resulting in a new centrality for the Deloris Jordan character (as well as the direct suggestion to cast Academy Award winner Davis in the role). But given the stars' writing background — Damon and Affleck won the 1998 Oscar for Best Original Screenplay for Good Will Hunting — Convery fully anticipated being marginalized. "Ben was very open about it. 'We want to do a pass on the screenplay. It's always the best idea wins. There's stuff we're going to add,'" he says. "It's obviously scary. I was an unproduced screenwriter. And there's a million examples of when A-list talent comes in, F-list talent disappears and you never hear from them again."
On set, Convery had a front-row seat to more on-the-fly alterations to his work courtesy of Air's ensemble cast. "Chris Tucker's stuff is almost all him. Jason Bateman is an Emmy-winning director for Ozark. He was doing a ton of invention," says Convery. "There was just a kind of permission to do what you want and if it doesn't work, it doesn't work. To me, the best line in the movie is something Viola just improv'd on the day: 'A shoe is just a shoe until my son steps into it.'"
Then, on the last day of principal photography, Affleck took the writer aside. "He said, 'We're not going to arbitrate, we're going to give you sole credit.' He said, 'Look, it was a spec script. It was your story. When we were coming up as writers, so many people gave us the benefit of the doubt and gave us a chance. They paid it forward for us and we're going to pay it back,'" recalls Convery.
Originally set to skip theaters and stream on Amazon Prime Video, Air's sky-high test-screening scores persuaded the platform to initially give it an exclusive global theatrical push — the first time the Seattle-based streaming giant has bypassed digital primacy since 2019. Buoyed by the film's buzz, Convery already has another sports-related project teed up at Skydance. But he remains clear-eyed about the confluence of X factors that put him in such a privileged position and the hard work it'll take for him to find himself there again. "My biggest lesson over the last 13 years is there's just no finish lines," the writer says. "So the job is still the same as when I was a freshman in film school. You're sitting at a computer writing. That part never changes."
"After that, it's really, which way is the wind blowing?" he continues. "And who is going to read the script? And is it the right time? As exciting as Air is, so much of it is luck. Look, I like the script and I'm proud. But if Matt and Ben hadn't read it when they did, if they weren't looking to start this new production company that's trying to make movies like this, who knows? It's just right script, right place, right people, right time. You only get to control one part of that, which is right script. So focus on that. And hope for the best."