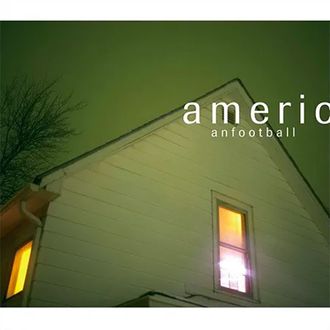 Extremely emo about this.
Photo: Polyvinyl
The members of Illinois emo greats American Football never actually lived in the house that graced the cover of their first self-titled album in 1999. But now, they own the unlikely musical landmark. Polyvinyl, the indie label from Champaign, Illinois, that released American Football, revealed that the label and band purchased the house, alongside the photographer who shot the cover, another photographer, and a Chicago art-gallery group. In a news release, Polyvinyl said the house, in nearby Urbana, was put up for sale in fall 2022, and they worried it could've been demolished — so the buyers "made a pact" to protect it. "A few days ago, we held true to this promise and formally signed the closing papers, preserving both the space and its unique legacy within the community that shaped its existence," the label said.
When American Football was first active in the late '90s, the house at 704 W. High Street was a popular spot for punk shows and parties near the University of Illinois; Chris Strong, who took the cover photo, lived in the basement. But the house didn't become part of the band's iconography — and that of emo at large — until American Football broke up the year after the album's release, leaving that photo as a major part of their legacy. When the band returned in 2014, Strong shot a music video inside the house for their 1999 song "Never Meant" (the best emo song of all time, and we do mean that) and put another interior shot on the cover of their second album in 2016. Now, it's become a popular pilgrimage site for emo fans in the Midwest — and can stay that way. "The American Football House has come to represent a nostalgic dream of possibility and the beauty of the beginning," Polyvinyl said. "We could not let that dream go." Did someone say Museum of Emo?