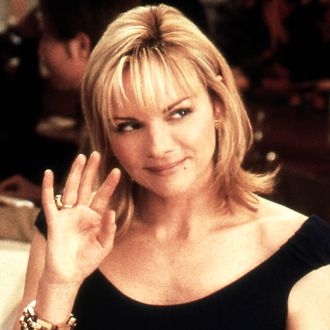 Helloooo there.
Photo: Moviestore/Shutterstock
They said it would never be done, that under no circumstances would renowned Canadian jazz poet Kim Cattrall ever revisit her iconic Sex and the City role of Samantha Jones. She had long ago tried to distance herself from the character and vowed to keep her dead and buried, telling Piers Morgan in 2017, "Me playing [Samantha], that I can assure you will never happen." And after the first season of franchise revival And Just Like That … aired, she reiterated her stance on any sort of Samantha revival, telling Variety, "It's powerful to say no."
Now, Variety reports that Cattrall will appear in the reboot's second season, albeit just for a single scene. The scene, shot on March 22 in New York City, will feature Samantha on the phone with Sarah Jessica Parker's Carrie. She reportedly shot the scene "without seeing or speaking with the stars of the series, including Sarah Jessica Parker, or with And Just Like That showrunner Michael Patrick King." This is a pretty decent workaround for Cattrall and Parker's decades-long blood feud, as Cattrall has been extremely vocal about Parker allegedly treating her poorly on set. She's also criticized the way her character was written, both in a proposed script for a third Sex and the City film and in the reboot, in which an offscreen Samantha sexts a teenager. Patricia Field, costume designer for the original Sex and the City series, reportedly returned to dress Samantha.
In AJLT's first season, Samantha's absence is the elephant in the room; New York City is supposed to be the fifth character, after all, not the fourth! So it's nice to know that we will get more Samantha, if only for a moment. It's also fun to imagine Cattrall shooting her one scene talking to a ping-pong ball on a stick representing Carrie. We don't know which episode Samantha will appear in, but the season premieres June 22. Oh, honey, talk about coming back after pulling out of a franchise! Am I right, ladies?