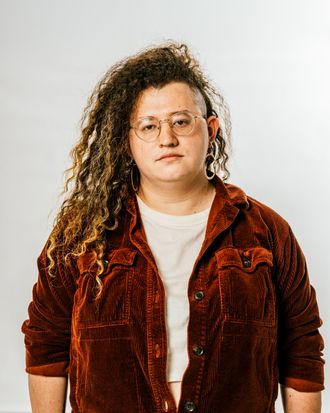 Winner.
Photo: New York Magazine
New York and Vulture readers know: Andrea Long Chu has a one-of-a-kind mind. She dives as deeply as anyone possibly can into her subject's work, interview history, and life, and she comes out the other side with big opinionated swings that you will encounter nowhere else, delivered in prose that swoops and soars like an Olympian. This afternoon, the Pulitzer committee up at Columbia University recognized what we have known for a while, awarding her the 2023 prize for criticism.
The pieces of writing for which she was recognized include:
• "Hanya's Boys": When reading Hanya Yanagihara, known for excruciatingly evocative fiction, Chu discerned that the most interesting relationship in the work was not among the characters but between the author and her characters — whom Yanagihara makes ill so she can nurse them back to health.
• "The Mixed Metaphor": Chu took the opposite approach to the recent trend of the mixed-race Asian character in literature, exploring how an archetype can become an idea for the authors who use it, in this case considering what it means to be Asian American enough.
• "Ottessa Moshfegh Is Praying for Us": The author has been hailed as a high priestess of filth. Really, Chu argues, she wants to purify her readers.
• "The Velveteen Rabbit Was Always More Than a Children's Book": A celebration and deep reading of Margery Williams Bianco's storybook at its centennial.
• "Misreading Octavia Butler": Debunking the widespread idea that Butler's groundbreaking science fiction was an extended slavery parable.
More recently, she also reminded us all just how shlocky Andrew Lloyd Webber's musicals can be — and how influential they are nonetheless.
Part of the pleasure of reading Chu comes from her fearlessness; her pieces are often celebrated on Twitter with lines like "I would like to report a murder." She uses a scalpel, though, not a blunt instrument: Those exquisitely crafted sentences articulate fundamental truths about the work as precisely as possible. "This is the problem with writing to wake people up: Your ideal reader is inevitably asleep," she writes of Ottessa Moshfegh's books. And there, you see that Chu is revealing herself, too: You can start to discern how she gravitates toward authors she doesn't fully agree with, where there might be a little friction inherent to the critical project. Out of that friction comes a review whose arrival is always an event. We are proud to be her colleagues, and offer our excited congratulations.