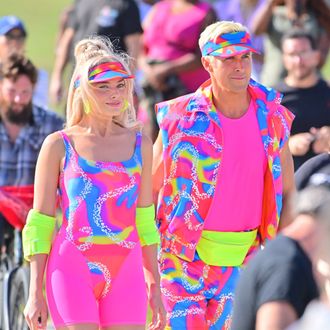 They're boyfriend-girlfriend.
Photo: MEGA/GC Images
"Barbie has a great day every day," the narration in the Barbie movie goes, according to Vogue. "Ken only has a great day if Barbie looks at him." Played by Ryan Gosling, the Barbie movie's Ken seems to be the ultimate himbo: body for sin, head full of rocks, crotch with nothing there. "Ken's job is just beach," Gosling recently told Vogue regarding his character. "I've never quite figured out what that means." But Margot Robbie, who's playing Barbie, knew how to make sure Ken felt seen. "She left a pink present with a pink bow, from Barbie to Ken, every day while we were filming," Gosling said. "They were all beach related. Like puka shells, or a sign that says 'Pray for surf.'" After all, when your job is "just beach," it's important that you have puka shells. "I felt like she was trying to help Ken understand, through these gifts that she was giving," Gosling said of Robbie's goal. Does Ken ever fully understand? The Barbie movie comes out on July 21, so put on your Speedo, head to the theater, and find out then.