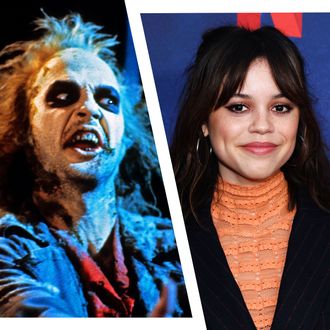 Michael Keaton (as Beetlejuice) and Jenna Ortega.
Photo-Illustration: Vulture. Photos: Warner Bros./Everett Collection; Getty Images
Scream queen Jenna Ortega has summoned her next spooky project. The Wednesday actress will star in Beetlejuice 2, a sequel to Tim Burton's 1988 horror-comedy starring Michael Keaton and Winona Ryder, per Variety. Keaton and Ryder will resume their roles as the poltergeist Beetlejuice and goth girl Lydia Deetz, respectively, while Ortega joins the cast as Deetz's daughter. Per The Hollywood Reporter, Catherine O'Hara is returning as Delia Deetz, which means she'll play Ortega's on-screen grandma. Willem Defoe is reportedly playing a law enforcement officer in the afterlife, while Monica Bellucci (The Matrix Reloaded) is said to be in talks to star as Beetlejuice's wife. Justin Theroux (Mulholland Drive) will also have a part to play in the upcoming film, though details on his character are slim at the moment.
Warner Bros. plans to release the film on September 6, 2024, just ahead of spooky season, the same day Marvel is slated to unsheathe the Mahershala Ali–starring Blade. Production is set to begin in London on May 10 with Brad Pitt's Plan B Entertainment producing the Mike Vukadinovich screenplay and Burton returning to direct. No word yet on if people will make the Blade and Beetlejuice double feature happen like they're trying to make the Barbie and Oppenheimer one happen. It's unclear who or what calls Beetlejuice back into the world for the sequel — in the first film, the unfriendly ghost is summoned by a home's recently deceased owners to haunt the new inhabitants. Perhaps Ortega says Beetlejuice three times to haunt the Wednesday writers?