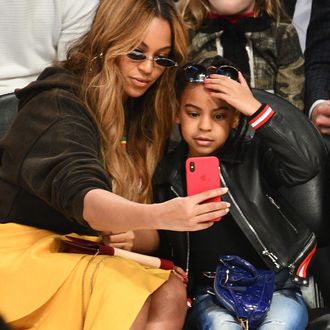 Blue Ivy Carter and her biggest fan.
Photo: Allen Berezovsky/Getty Images
Well, we'd hate to be the other kids in Blue Ivy Carter's class when it's time for everyone to share something cool they did over the summer. The 11-year-old Grammy winner graciously made a surprise appearance at the Paris stop of her mother's Renaissance world tour. "My bloodline … give it up for Blue!" Beyoncé said before bringing her daughter out for the Lion King track "My Power." It's not their first time onstage together. The pair sang a duet of "Brown Skin Girl" in Dubai earlier this year … although we, uh, wouldn't know anything about what happened at that no-phones-allowed performance. For this public performance, Blue limited her cameo to casually executing tour choreography alongside Bey's dancers. She didn't miss a beat while performing in front of 80,000 people, including proud dad Jay-Z, as well as other celebs like Selena Gomez, Natalie Portman, Pharrell Williams, Megan Thee Stallion, Kris and Kylie Jenner, Lenny Kravitz, and more. With all that star power in the sold-out Stade De France, it's no wonder the ever-pragmatic Blue decided to wear shades.