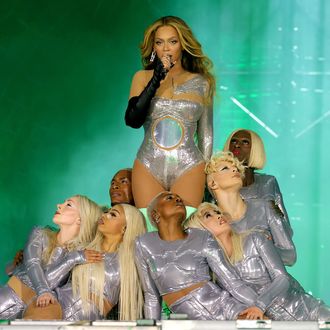 That girl.
Photo: Kevin Mazur/Getty Images for Parkwood
Are you happy to be in Paris Stockholm? Well, some of us couldn't make it to Sweden for the opening night of Beyoncé's Renaissance Tour on May 10. Luckily, through the power of standom, time zones, and an obsessive personality, Vulture live-blogged the (soon-to-be) historic performance – the first glimpse at Renaissance visuals Beyoncé has deigned to give us. No one's coun ting that Tiffany ad, girl! Gracious fans have leaked just the right amount of info to keep us curious: a planet-sized disco ball, a progressive Pride flag on-screen, and a set list that looks like Sir and Rumi were making last-minute adjustments. Is there even any point in speculating? We know she's going to do something unique anyway. Unique! BeyHive, come get your honey right here, updated live 3,925 miles away from Stockholm.
What opened the show?
And … out. Don't forget to breathe after watching the opening of the Renaissance World Tour, a guitar-strumming rendition of "Dangerously in Love" with an extra-even-for-Beyoncé-display of vocal talent that ended with her forgoing the instruments all together. "I just wanna say y'all make me so happy," she addressed the BeyHive, before giving them the greatest gift of all … another deep cut: "Flaws and All." Old song, fresh runs. It's Beyoncé's own personal Eras Tour. She even got a little emotional right back at the screaming, crying crowd, before going into "1+1." Hear that Mathew Knowles: "I don't know much about algebra but I know 1+1 equals 2."
As her own opening act, the ballads continued with "I'd Rather Go Blind" and "I Care," before the main event: Renaissance.
What's on the setlist?
1. "Dangerously in Love"
2. "Flaws and All"
3. "1+1" / "I'd Rather Go Blind" / cover of "I'm Going Down" by Mary J. Blige
4. "I Care"
5. "I'm That Girl"
6. "Cozy"
7. "Alien Superstar"
Break: "Sweet Dreams"
8. "Lift Off" – Kanye West and Jay-Z featuring Beyoncé
Break: "7/11" performance by Les Twins
9. "Cuff It" (Gospel version/Wetter remix)
10. "Energy"
11. "Break My Soul" (Queens remix)
Break: "No Angel"
12. "Formation"
13. "Diva"
14. "Run the World"
15. "MY POWER"
Break: "Just Wanna Rock" by Lil Uzi Vert / "Alright" by Kendrick Lamar
16. "Black Parade"
17. "Savage" (Remix)
18. "Partition"
Break: "Family Feud" by Jay-Z / "Yonce" / "Higher" by The Carters
19. "Church Girl"
20. "Get Me Bodied" / "Freakum Dress"
21. "Before I Let Go"
22. "Rather Die Young"
23. "Love On Top"
24. "Crazy In Love"
Break: "Green Light" / "Love Hangover" by Diana Ross, performed by backup singers
25. "Plastic Off the Sofa"
26. "Virgo's Groove" / "Naughty Girl" / "Say My Name" / "Speechless"/ "Cater 2 You" / "Rocket" / "Dance For You"
27. "Move" / "Move Ya Body" by Nina Sky
28. "Heated"
Break: "Already" / "Kitty Kat" / "Flawless" / "Find Your Way Back"
/ "Heard About Us"
29. "THIQUE" interpolated with "Toxic" by Britney Spears
30. "All Up In Your Mind"
31. "Drunk In Love" (Dubai version)
32. "America Has A Problem"
33. "Pure/Honey"
34. "Summer Renaissance"
Okay, but there were definitely some new arrangements?
Not only was there a blink-and-you'll-miss it Mary J. Blige cover woven into "1+1," she played DJ with some of her biggest hits. The show basically felt non-stop the way she transitioned into each song by incorporating remixes like the "Queens" version of "Break My Soul," her "Cuff It" (Wetter Remix) intro, and "Sweet Dreams" from "Alien Superstar." You want her to play "No Angel?" She's giving it to you with a club beat underneath as she shifts to "Formation." During "Diva" she threw in "Just Wanna Rock" by Lil Uzi Vert, then used Kendrick Lamar's "Alright" to transition. And that's not even the song she has with Kendrick. She then dropped "Freakum Dress" right in the middle of "Get Me Bodied," before moving eras and decades forward to "Before I Let Go." Don't ask why she interpolated "I Want You Back" by the Jackson 5 into "Love On Top." Just experience it.
Where is Reneigh?
The first glimpse of Reneigh came as Beyoncé transitioned from balladeer to Bad Bitch — with the queen herself perched on top in metallic like a sexy coat-of-arms. But the chrome steed had her moment during "Break My Soul" where her 3-D body came out of the circular center of the stage, appearing to gallop towards the audience and majestically pointing at Beyoncé performing in the middle of Club Renaissance. She emerged in her full form during "Summer Renaissance," being air-lifted above the crowd with Beyoncé belting on top. Good thing you can't break Reneigh's soul or body. She's a giant metal horse.
What's up with the robot arms?
Look … billionaires have too much money. Beyoncé's stage features two robot arms that keep picking stuff up and dancing. Early in the show, they used UV light to turn her white gown into a kaleidoscope of color. During "Heated," they literally hold fans. Automation is here to serve … on the dance floor it seems. The future-tech exists throughout the show, like when she drove in on what appears to be a tank manufactured by SkyNet while singing "Black Parade."
These are the visuals, aren't they?
Playing on screen during those insane, mind-melding remixes are the visuals Beyoncé's been waiting to show us. Most of the scenes show people dancing at clubs, highlighting the gay and trans community, including her Uncle Johnny.
Other clips are more conceptual with futuristic chrome costuming, mechs, and lots of disco balls. The tour book gives a closer look at some of the styles she's working with, like a retrofuturistic "Alien Superstar" poster, a Greco-Roman-inspired bust of her own face with robotic saws coming out of the head like Medusa's snakes, and a green-screen Reneigh, who will live many years beyond humanity's extinction.
Who are the dancers voguing the house down?
Calling it Club Renaissance was not a joke, it was a call to action. As in, start learning how to vogue now and you might look half-decent by the time she gets to North America. After "Pure/Honey," Beyoncé's dancers take over the stage for a little ballroom moment, taking turns voguing for the God(dess). The cast includes Carlos Basquiat, Kyndall Harris, Darius Hickman, Simone Alston, Honey Balenciaga of the House of Balenciaga, Zavion Brown, Aahkilah, Amari, Lisa, Hannah Douglass, and Mekhi Cuffee.
Bee-yoncé?
Bee-yoncé.
This is a developing story.