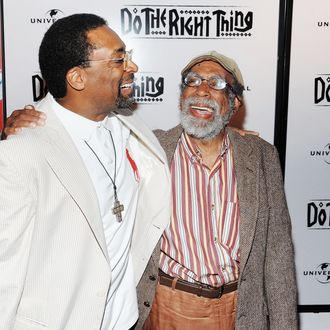 Bill Lee, right, with Spike in 2009.
Illustration: Dimitrios Kambouris/WireImage
Bill Lee, the jazz bassist and composer who performed with a number of music greats and scored the early films of Spike Lee, his son, has died. He was 94 and died at his Brooklyn home this morning, Spike confirmed to the New York Times. Bill Lee played double bass in jazz groups in Atlanta and Chicago before moving to New York in 1959. There, he began working as a sideman, along with recording his own albums. He performed with Bob Dylan, Aretha Franklin, Duke Ellington, Simon & Garfunkel, Arlo Guthrie, Gordon Lightfoot, and Judy Collins, among many others. By the 1980s, he was collaborating with his son, Spike, for whose early films he composed music. He first scored Spike's 1983 short Joe's Bed-Stuy Barbershop: We Cut Heads, before going on to compose the music for the films She's Gotta Have It, School Daze, Do the Right Thing, and Mo' Better Blues — the latter of which is about jazz musicians. Bill Lee also had roles in all of the features except Do the Right Thing.
Lee stopped working with his filmmaker son in the 1990s over a number of disagreements, around the time the elder Lee was arrested for heroin possession. In 2017, as he was releasing a TV-series remake of She's Gotta Have It, Spike Lee said their collaborations dissolved because of "technology." He explained that it could be difficult for Bill to compose for a finite space like a two-minute-and-20-second movie scene. "He doesn't write like that," Spike said with a laugh. "He just wrote it for … forever!" Still, Bill Lee continued performing jazz into the last years of his life and was known for holding long jam sessions at his Fort Greene apartment.