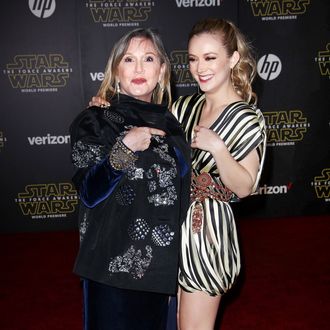 Carrie Fisher and Billie Lourd.
Photo: Matt Baron/Shutterstock
The Hollywood Walk of Fame will honor the late Star Wars legend Carrie Fisher on the franchise's holiday, May the Fourth, though the air will not be clear (for reasons other than L.A. smog).
Billie Lourd, Fisher's daughter, confirmed that she did not invite the actor's siblings to the event over their decision to "capitalize" on her death. "They know why," she wrote in a statement to The Hollywood Reporter after rumors about invites began circulating earlier this week. "Days after my mom died, her brother and her sister chose to process their grief publicly and capitalize on my mother's death, by doing multiple interviews and selling individual books for a lot of money, with my mom and my grandmother's deaths as the subject," Lourd added, noting that she only found out about her aunt and uncle's activities through the press. "Though I recognize they have every right to do whatever they choose, their actions were very hurtful to me at the most difficult time in my life. I chose to and still choose to deal with her loss in a much different way." Lourd apologized to those who felt the need to defend her decision and chose to write a statement only after her family had "publicly attacked" her, she said.
Fisher's brother, Todd Fisher, responded to Lourd's accusations with a statement defending his actions. "We made every attempt to speak with Billie's team regarding the invitation prior to making any public comments," he wrote, saying his goal was to keep the focus on Fisher. "I never capitalized on either Carrie or my mother Debbie's deaths, and in no way meant to hurt Billie … and that is the truth. Billie's father was well aware months in advance of my book."
It appears a détente is not on the horizon anytime soon.