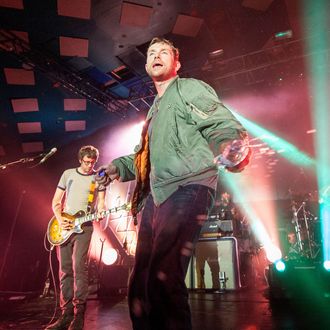 Blur.
Photo: Ross Gilmore/Redferns via Getty Images
It seemed like only a matter of time before Blur would break their second hiatus with a new song, after Damon Albarn's original band announced a run of shows this summer. Now, sure enough, Blur has released "The Narcissist," the lead single off their first album in eight years, The Ballad of Darren. Who's Darren? Is he a narcissist? Hell if we know! But in a statement, Albarn did call the new album "an aftershock record, reflection and comment on where we find ourselves now." "The Narcissist" gives little hint as to where that might be — it's easygoing by Blur standards, a semisweet, last-call-ready arena-pop song. "I'm the shining light in your eyes," Albarn sings. "You're probably shining back on me."
The band's lead guitarist, Graham Coxon, went on to say in a statement, "The older and madder we get, it becomes more essential that what we play is loaded with the right emotion and intention. Sometimes just a riff doesn't do the job." Get ready to hear more of Blur's emotional side when The Ballad of Darren comes out July 21 — and when the band kicks off their new shows beginning tomorrow, May 19. Find the track list to Darren below.
1. The Ballad
2. St Charles Square
3. Barbaric
4. Russian Strings
5. The Everglades (for Leonard)
6. The Narcissist
7. Goodbye Albert
8. Far Away Island
9. Avalon
10. The Heights