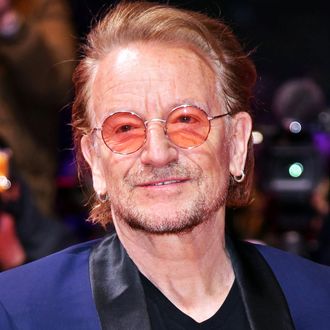 Bono.
Photo: Tristar Media/WireImage
When it comes to his sketch art, Bono doesn't have much of a portfolio, just a 2003 edition of Peter and the Wolf he illustrated with his daughters and the doodles that title each chapter of last year's memoir, Surrender. But that didn't stop The Atlantic from commissioning this new artist to draw its June cover. Really, Bono has been preparing for this specific gig for a while, sketching his takes on Atlantic covers when he's not fronting U2 or advocating for human rights. The rising artist told the Washington Post that the hobby began because he's an Atlantic subscriber and "a fan of their long-form journalism." In an editor's letter, editor-in-chief Jeffrey Goldberg explained that Bono's sketches "were very good," so he commissioned him for a portrait of Ukrainian president Volodymyr Zelenskyy. He went through over a dozen versions, just like any other artist, to land on a cover that the magazine's art director said was influenced by protest art. We've hyped it up enough, so here it is:
Okay! Goldberg wrote that the cover was "stunning," but Bono gave the better description to the Post: "A few squiggles and I just got out of the way." Don't worry — he was reportedly only paid the magazine's regular rate for a cover artist.