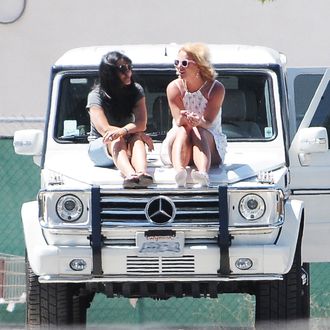 Lynne and Britney Spears in 2015.
Photo: Chinchilla/Bauer-Griffin/GC Images
Britney Spears appears to be making peace with her mom. The pop star posted a baby picture of herself on Instagram with a caption describing efforts to reach détente with her mother, Lynne. "My sweet mama showed up at my door step yesterday after 3 years," Britney wrote on May 25. "It's been such a long time … with family there's always things that need to be worked out … but time heals all wounds !!!" She was likely referring to her mother's role in Britney's conservatorship that lasted from 2008 to 2021 and only ended after years of fan protest, a bombshell 2021 documentary detailing the "Baby One More Time" singer's media harassment, and an infuriated public calling for an end to the court order after learning how exactly someone's rights are stripped under a conservatorship.
Lynne, for her part, had a complex role in Britney's legal matters — eventually, the star's mom supported the end of the conservatorship, only to turn around and ask Britney to pay her $663,203 in legal fees after a judge struck it down. At the time, Britney took to Instagram seemingly in response to the request, saying that it was Lynne who gave her father Jamie the idea for the conservatorship that "secretly ruined" her in the first place. She went on to tell her mother and her allegedly complicit former manager to go "fuck yourself." It looks like they're now working it all out, though. "After being able to communicate what I've held in for an extremely long time, I feel so blessed we were able to try to make things RIGHT !!!" Britney wrote on May 25, before asking her mom out to coffee after 14 years. "Psss … I'm so blessed we can have coffee together after 14 years !!! Let's go shopping afterwards !!!"