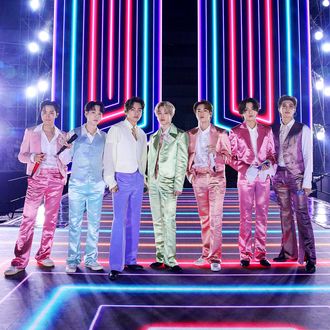 Photo: Big Hit Entertainment/AMA2020/Getty Images
BTS might technically be on a hiatus, but that hasn't stopped them from staying booked. And we're not just talking about their solo careers — per the New York Times, Jin, Suga, J-Hope, RM, Jimin, V, and Jung Kook have found time to help write a book. Flatiron Books confirmed on Thursday that it will publish Beyond The Story: 10-Year Record of BTS on July 9. Featuring exclusive photographs, the 544-page oral history of BTS was written by journalist Myeongseok Kang and the group members themselves. Flatiron will publish the U.S. edition, which will have an initial print run of one million copies. Big Hit Music is handling the book's release in South Korea.
The members of BTS are now best-selling authors, which will come as a surprise to no one … well, except the Swifties who were convinced that they were getting a Taylor Swift memoir. The book has been climbing up Amazon and Barnes & Noble sales charts for the past few days, despite the fact that it did not yet have a title or confirmed subject. Stans knew that a 544-page nonfiction book was supposed to be announced on June 13, ahead of a July 9 release date. The former date is the 10-year anniversary of BTS's debut, while the latter date is the day the BTS ARMY fanbase was founded; naturally, some ARMYs felt they had enough information to preorder. However, Swift recently announced her next album in a post that included the date July 9 and the phrase "dear reader." Plus, June 13 includes her favorite number, 13. And that page count … 5 + 4 + 4 = 13. Unfortunately for Swifties, the math didn't add up to anything this time.