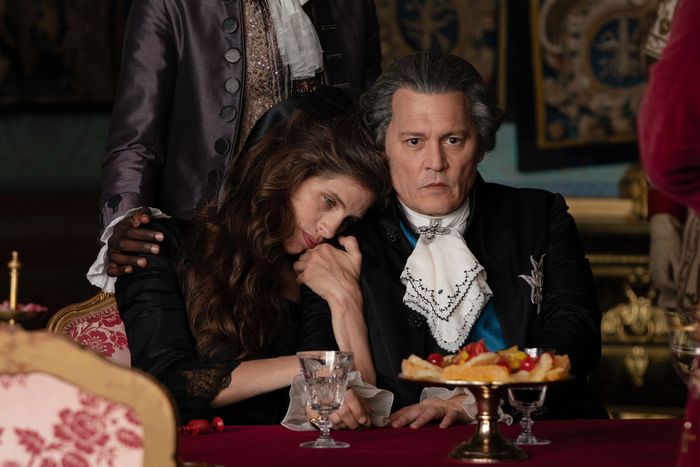 Cannes, Maïwenn, and Johnny Depp spent opening night of the festival defending
Jeanne du Barry.
Photo: Stephanie Branchu/Why Not Productions
The French film industry, notorious for not just tolerating but occasionally rewarding accused predators, continued that grand tradition at the opening gala of this year's Cannes Film Festival. The premiere film, Jeanne du Barry, has been billed as "Johnny Depp's comeback vehicle" and stars Depp — who was accused of domestic abuse by his ex-wife Amber Heard and hasn't worked in the U.S. since a judge ruled that The Sun's description of him as a "wife beater" was "substantially true" — as Louis XV during an affair with his favorite mistress, played by the French actress Maïwenn, who also directs.
Last week, Maïwenn gleefully admitted to assaulting journalist Edwy Plenel (whose publication, Mediapart, published a story about several women who'd accused her ex-husband, director Luc Besson, of rape), yanking back his hair and spitting in his face at a café. Last night, she psychically tormented hundreds more journalists with a film that felt like someone had fed the Wikipedia page for 1700s France and the Wikipedia page for The Princess Diaries to ChatGPT and blithely filmed the resulting script.
The evening began as hundreds of adoring fans greeted Depp outside the Palais, begging for autographs and selfies. "You made it back!" one screamed as Depp signed an ad for his Dior Sauvage perfume. Inside, even as the theater darkened, Depp wore sunglasses and looked vaguely pained, though he would go on to wipe away tears during the brief post-screening standing ovation, which applauded him for playing a man who is sycophantically adored by the public but barely speaks and mostly sits around looking pale. Despite the fact that his casting serves as something of a defiant stunt, Depp's presence in Jeanne du Barry is barely felt — he utters a few lines in French, smiles amusedly at his mistress, wears a series of wigs, then dramatically dies of smallpox. (To quote another Cannes mainstay accused of abuse, "Boy, the food at this place is really terrible — and such small portions.") Most reviews of Depp's performance have been along the lines of The Telegraph's: "Depp may be the actor least suited — after Hulk Hogan — to playing an ancien régime monarch."
The film is, above all else, a vanity vehicle for Maïwenn, who plays an 18th-century Frenchwoman who's "not like the other girls": She does her hair in anachronistic styles, enjoys sex, wears men's clothing, refuses to obey royal protocols, and inspires the rage and envy of all the other women she encounters (and, of course, the adoring friendship of various highborn men, who find her charming — except when she needs actual institutional help, in which case, they kick her to the curb). Fascinatingly but not surprisingly, Jeanne du Barry ends up being a romanticized paean to the French monarchy, sympathizing with the guillotined parties during its perfunctory, end-title mention of the French Revolution and, among other things, painting Jeanne's relationship with an enslaved Black child the king purchases for her as a positive maternal relationship. In the movie's final moments, the titular character is quoted in voiceover just as she's about to be beheaded for her crimes against the people: "Just one more minute, Mr. Executioner. I loved life too much to have it taken away like this." (At an unaffiliated Cannes party later that evening, film critic Jessica Kiang summed it up thus: "This is a movie that tries to admire a woman for succeeding despite grotesque social structures, but it ends up admiring the grotesque social structures.")
For his part, festival director Thierry Fremaux didn't seem to find any aspect of Jeanne du Barry controversial — not least its male star. "I don't know about the image of Johnny Depp in the U.S.," said Fremaux to the press on Monday. "To tell you the truth, in my life, I only have one rule: It's the freedom of thinking and the freedom of speech and to act within a legal framework." He then made reference to the festival's notoriously dysfunctional online-ticketing website, accusing attending journalists of hypocrisy for questioning the ethics of the Depp premiere while simultaneously attempting to see other movies at the festival in order to do their jobs. "If you thought that it's a festival for rapists, you wouldn't be here listening to me," he said. "You would not be complaining that you can't get tickets to get into screenings."
Portrait of a Lady on Fire star Adèle Haenel — who walked out of the César Awards in 2020 alongside director Céline Sciamma when Roman Polanski was awarded Best Director — spoke out against this sort of ethical abdication by announcing her retirement from the French film industry earlier this month. In a letter published on Télérama, Haenel wrote that she publicly declared her retreat as a way to call out "general complacency" in the industry "vis-à-vis sexual aggressors" and the Me Too movement. She went on: "They join hands [to protect] the [Gérard] Depardieus, the [Roman] Polanskis, the [Dominique] Boutonnats. It bothers them that the victims make too much noise. They preferred that we disappear and die in silence … You have the money, the strength, and all the glory, [but] you won't have me as a spectator."
When asked about Haenel's statement, Maïwenn — who directed 2011's Polisse, in which she plays a photographer assigned to shadow a police unit that rescues sexually exploited children, and who in recent years has acknowledged that her relationship with Besson (whom she met at age 12, began dating at 15, and married and had a child with at 16) was indeed the inspiration for his controversial film Léon: The Professional — replied, "I found it sad that she sees that world through that prism. It's a bit too radical, even if I recognize at the same time that it was brave of her to speak." Maïwenn noted that she did not "hesitate" to cast Depp despite the domestic violence allegations shared by Heard. "We could say it was one person's word against another. I didn't feel I had the right to judge."
In the past, Maïwenn has similarly spoken out against the Me Too movement, telling Paris Match in 2020, "It's crazy how many stupidities they say these days! These women don't like men, that's clear, and they're causing very serious collateral damage … When I hear women complaining that men are only interested in their bottom, I tell them, 'Enjoy it, because it won't last!'" This worldview is all over Jeanne du Barry, which portrays each of its female characters (save for Maïwenn's) as dumb, sexless, bitchy, or all three. In an interview with Variety this week, Plenel put it this way: "Cannes chose a completely mad symbol as its opening night selection: a film by Maïwenn that's about a courtesan seeking power. The mythology that's put forward in the film, coupled with the casting of Johnny Depp, her anti–Me Too comments, and now this aggression that she seems to be proud and that makes people laugh on TV — that says something."
At the press conference the morning after the film, to which Depp arrived halfway through, Maïwenn declared that she "doesn't read the press. I protect myself in this way. Maybe negative things are being said about the film, all sorts of rubbish is being said … The film was released yesterday, it's a great success, and I'm very happy." Nobody asked her about how she managed to read, then spit on Plenel, but she was questioned about the film's financing, which came in part from Saudi Arabia's Red Sea International Film Festival and in part from Netflix. One journalist asked if the former was "complicated" and the latter had any issues surrounding Depp's casting. "Things are changing," she said of the Saudi government, agents of which assassinated journalist Jamal Khashoggi in 2018 for being critical of the country's rulers. "I would be proud to go there and present the film … I always said I would make the film with Johnny, and Netflix never raised the issue."
Once Depp arrived, he was asked several indirect softball questions about his own controversies. He delivered long, often unintelligible answers. When asked whether he still felt "boycotted by Hollywood" or whether the "tide was changing toward you doing major studio films," he replied, "Did I feel boycotted by Hollywood? You'd have to not have a pulse to feel like, 'No. None of this is happening. It's a weird joke.' When you're asked to resign from a film [Fantastic Beasts: The Secrets of Dumbledore] because of something that is merely a function of vowels and consonants floating in the air? Yes, you feel boycotted. Do I feel boycotted now? I don't feel boycotted by Hollywood, because I don't think about it. I don't have much further need for Hollywood myself."
Asked what he'd say to those who believe he shouldn't be at the festival, he looked amused. "What if one day they did not allow me, under any circumstances, no matter what, I cannot go to McDonald's for life? If you got them all in one room, there would be 39 angry people watching me eat a Big Mac on a loop just for fun. Who are they? Why do they care? Some species, some tower of mashed potatoes, covered in the light of a computer screen, anonymous, with apparently a lot of spare time," he said. "I don't think I'm the one who should be worried … People should really think about what it's all about, really."
Correction: A previous version of this story misquoted Depp. He said 39 people would be watching him eat a Big Mac, not 30 million.